In June 2013 we walked the Two Moors Way, the 117 mile coast to coast walk in Devon, England. As a keen walker living in Devon at the time, I was eager to undertake this as my first multi-day walking holiday to see more of the beautiful county I called home. Along the route I was joined by my husband Steve, my father, Baldy Man and his dog, Harvey. We took it upon ourselves to obtain sponsorship on behalf of the MS Society and between us we were able to raise almost £800 for the cause. On this page you will find my musings on the trip, along with photos and some snippets of practical information if you're also thinking of walking the route.
Our Two Moors Way 8 day itinerary:
DAY 1: WEMBURY TO IVYBRIDGE
DAY 2: IVYBRIDGE TO SCORRITON
DAY 3: SCORRITON TO WIDECOMBE IN THE MOOR
DAY 4: WIDECOMBE IN THE MOOR TO SANDY PARK
DAY 5: SANDY PARK TO MORCHARD BISHOP
DAY 6: MORCHARD BISHOP TO KNOWSTONE
DAY 7: KNOWSTONE TO WITHYPOOL
DAY 8: WITHYPOOL TO LYNMOUTH
Day 1: Wembury to Ivybridge
Saturday 22 June 2013
The start point of the coast to coast version of the Two Moors Way is at Wembury on the south Devon coast. We had arrived at Down Thomas, close to the start point, the night before. We stayed at Gabber Farm, where the owner kindly allowed us to leave our car for the duration of the walk. The accommodation wasn't anything special- just basic rooms in a house, but it was very close to the local pub, The Mussel Inn; a very friendly affair with excellent food in very generous portions.
The morning of the the walk, we were over an hour later than planned setting out. Breakfast was delayed as the owner (a slightly frantic older lady) was struggling with a full house and many breakfasts to prepare. Once we finally set out, we walked just over a mile down to the start point at Wembury Beach. Having asked a dog walker to take the obligatory photo of us next to the 117 miles to Lynmouth sign, we set out to walk the Erme-Plym Trail to Ivybridge; added to the Two Moors Way route in recent years to extend the walk as a coast to coast footpath.
We didn't particularly enjoy the first day. The route wasn't strenuous but it lacked the charm of much of the rest of the walk and we were scuppered by stretches of rain in the afternoon. Baldy Man also learnt a valuable lesson in that he should always listen to his daughter! Before the walk I had warned him to make sure that he got a good hiking rucksack and emphasised not to skimp on it. Baldy Man being Baldy Man though found a rucksack in the loft and decided it would do. It was half way through this first day that he realised he had made a big mistake! We spent the afternoon swapping rucksacks to help him out and all of us were feeling the back strain by the time we arrived at the Sportsman Inn at Ivybridge at about 7pm that evening. Thankfully, Baldy Man was able to use a luggage transfer service for the rest of the trip; an expensive but worthwhile decision!
The accommodation at the Sportsman Inn was basic but comfortable. The room was a bit noisy from the road at the front but we had plenty of radiators to dry our wet boots and socks on. Poor old Harvey slept out in the barn at the back. We felt really bad leaving him there but we hoped that he would be so tired from a full days exercise that he would sleep well.
The pub itself left a lot to be desired, particularly as the Saturday night regulars descended on us for the weekly karaoke session! But we were tired from our first days walking and were just thankful to have somewhere to rest and freshen up before day number two.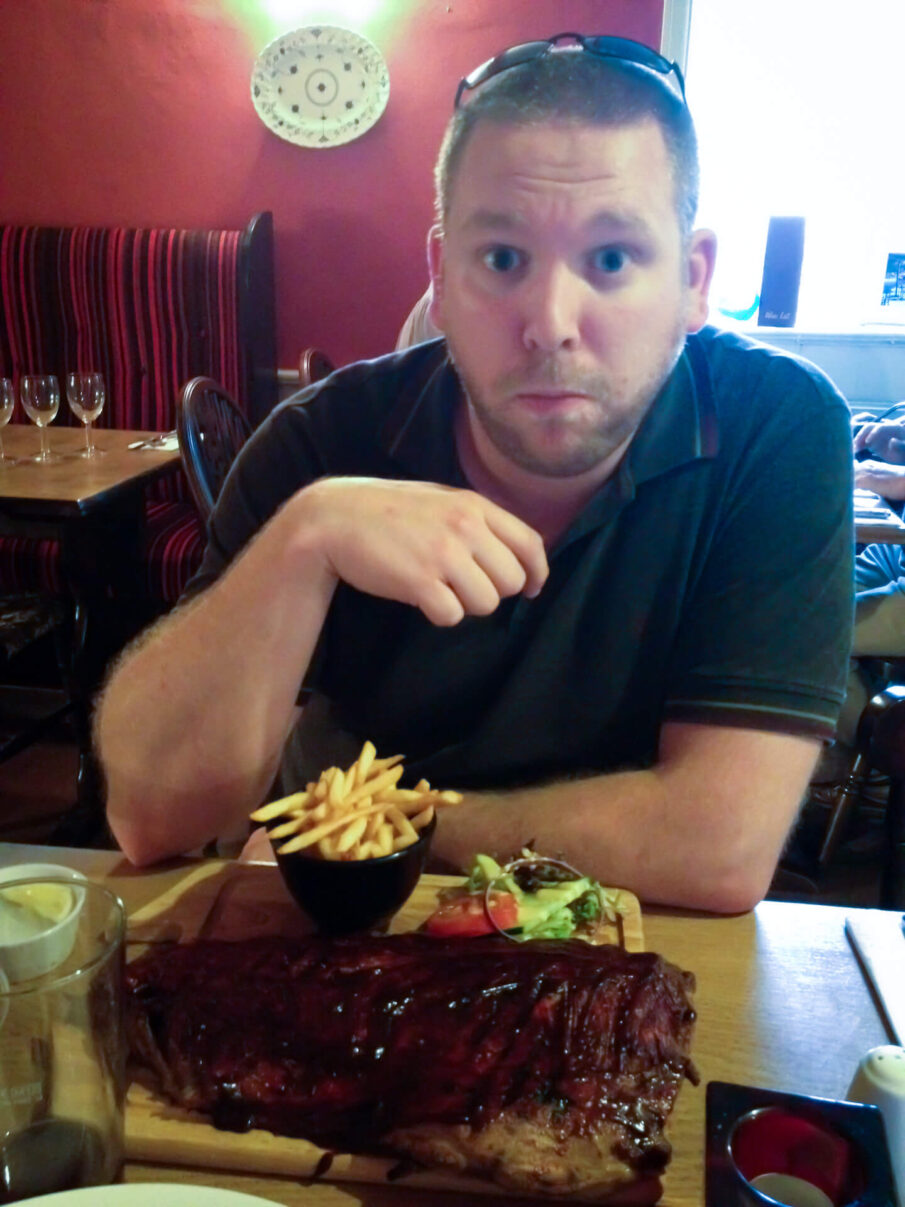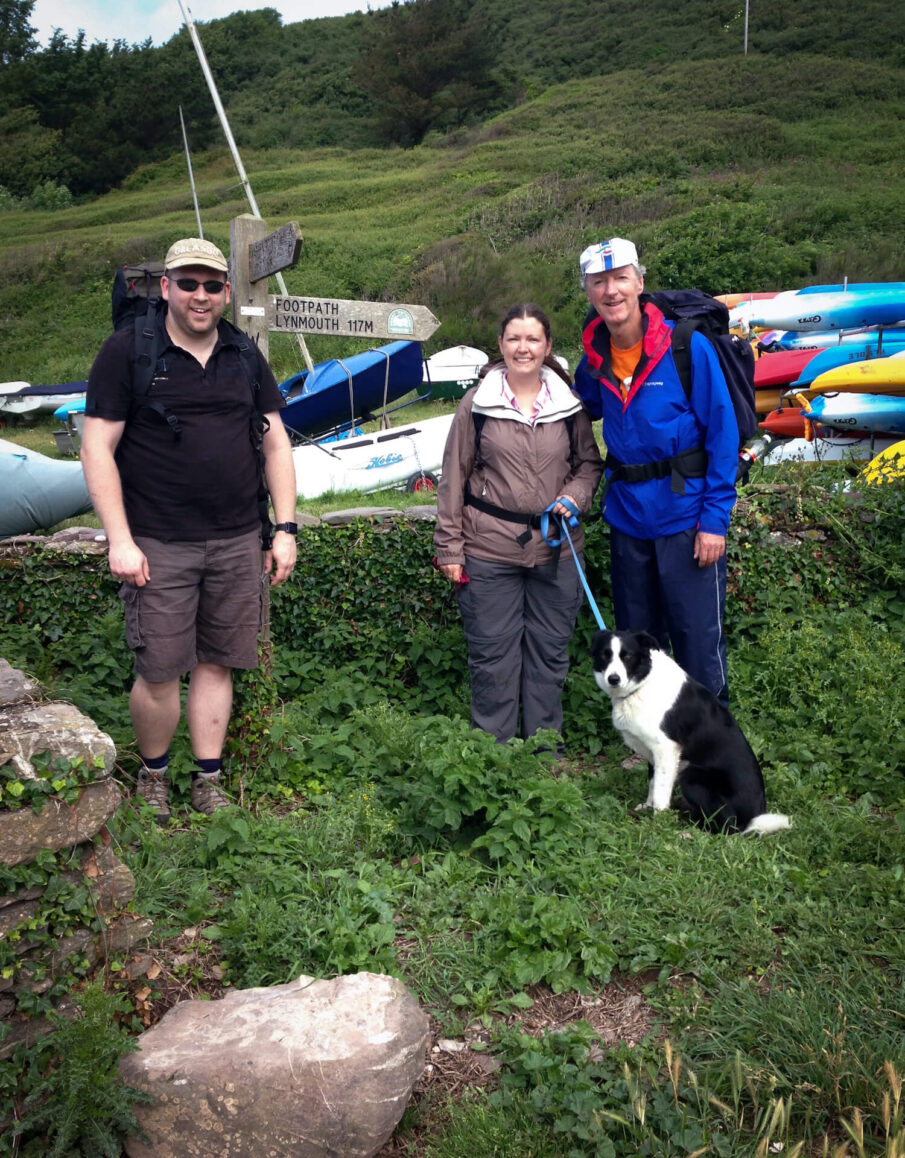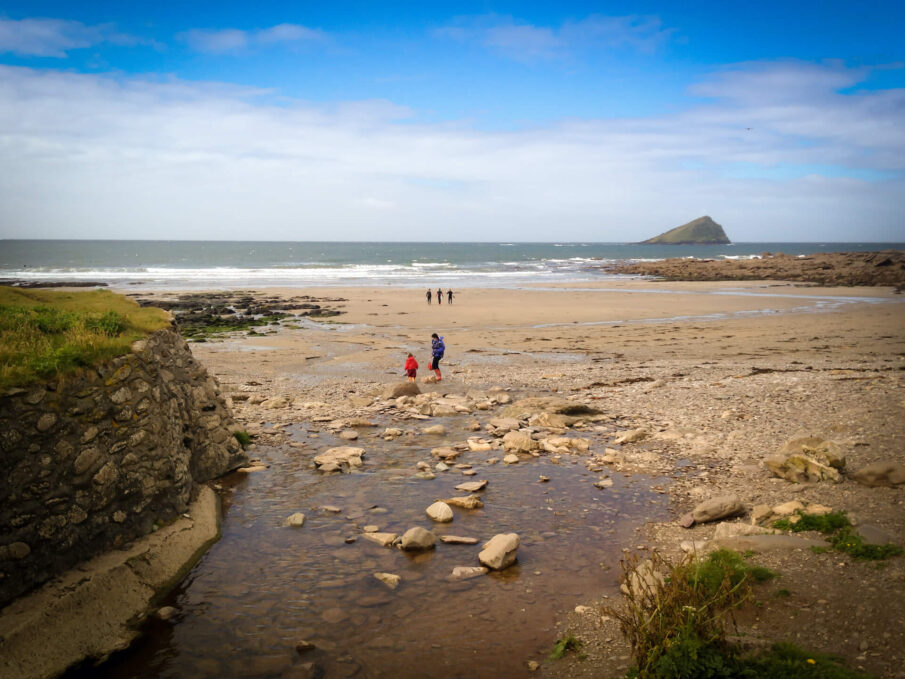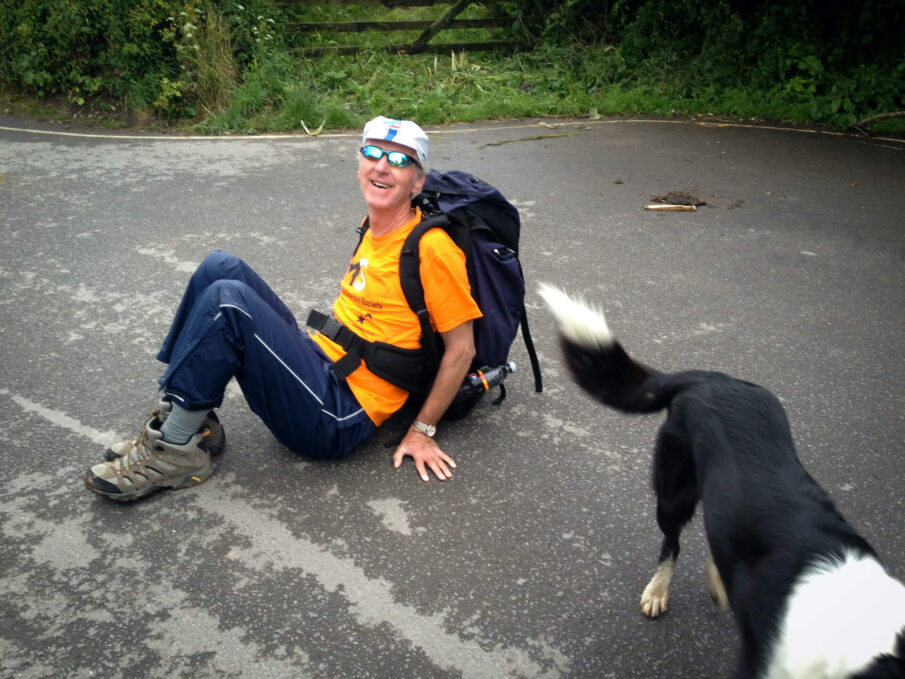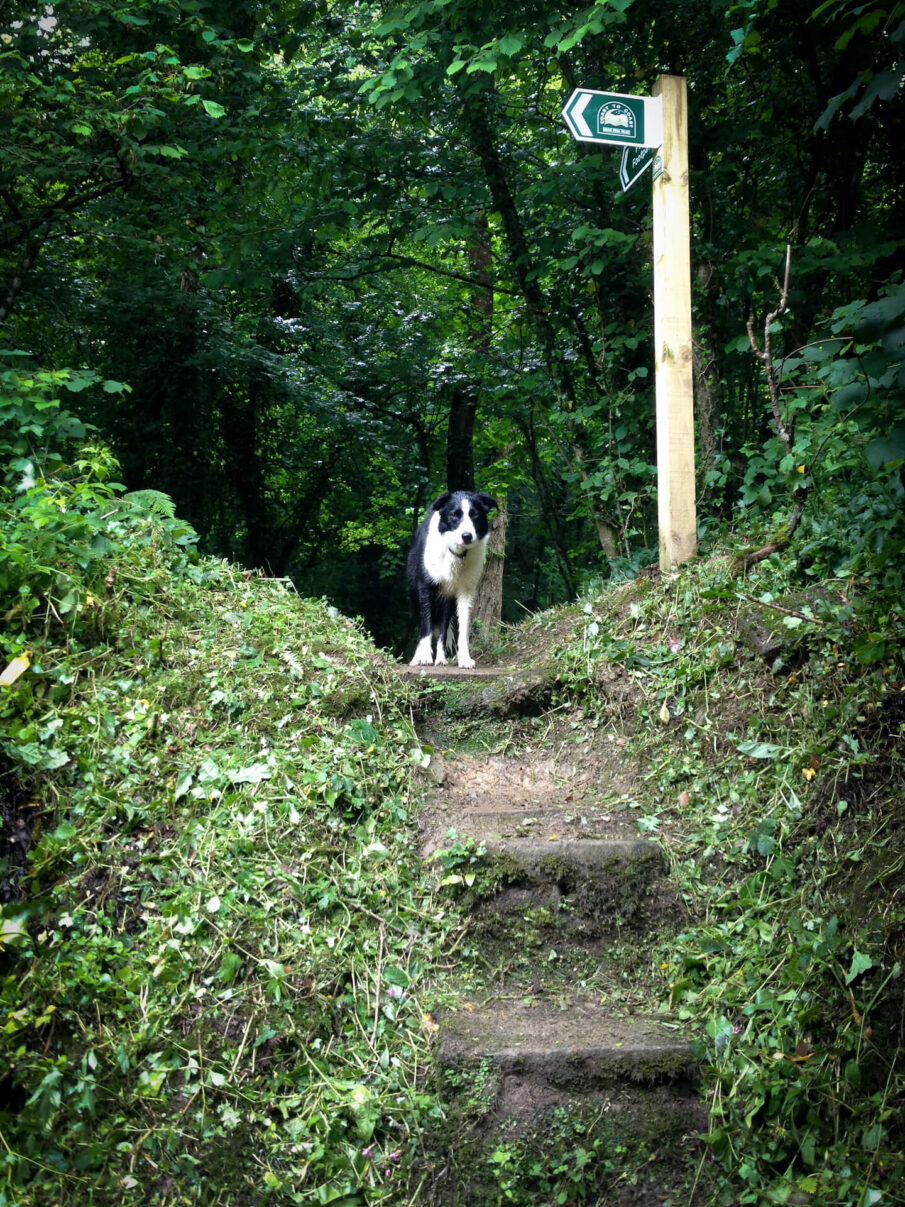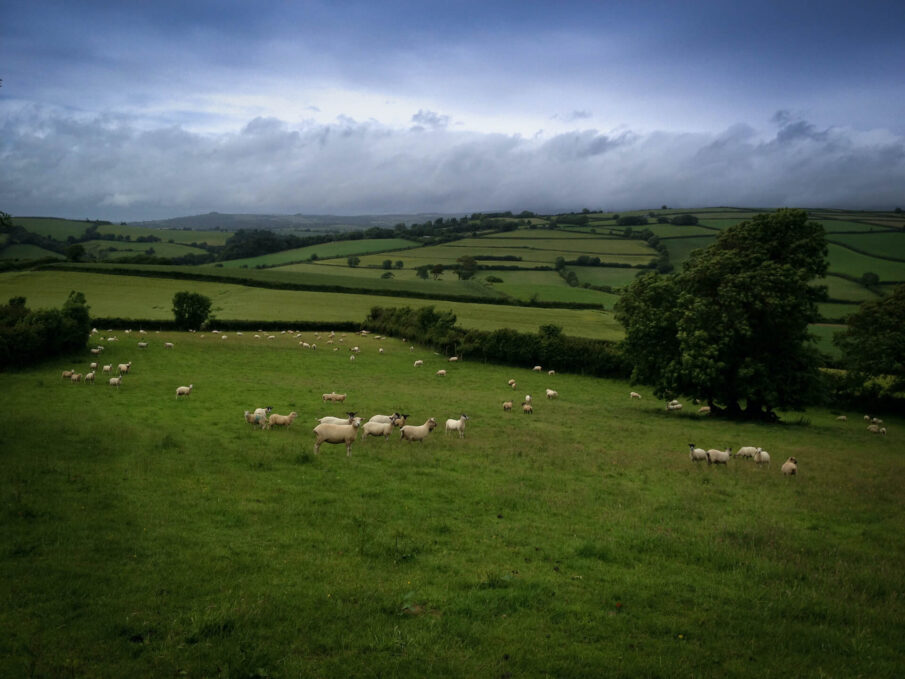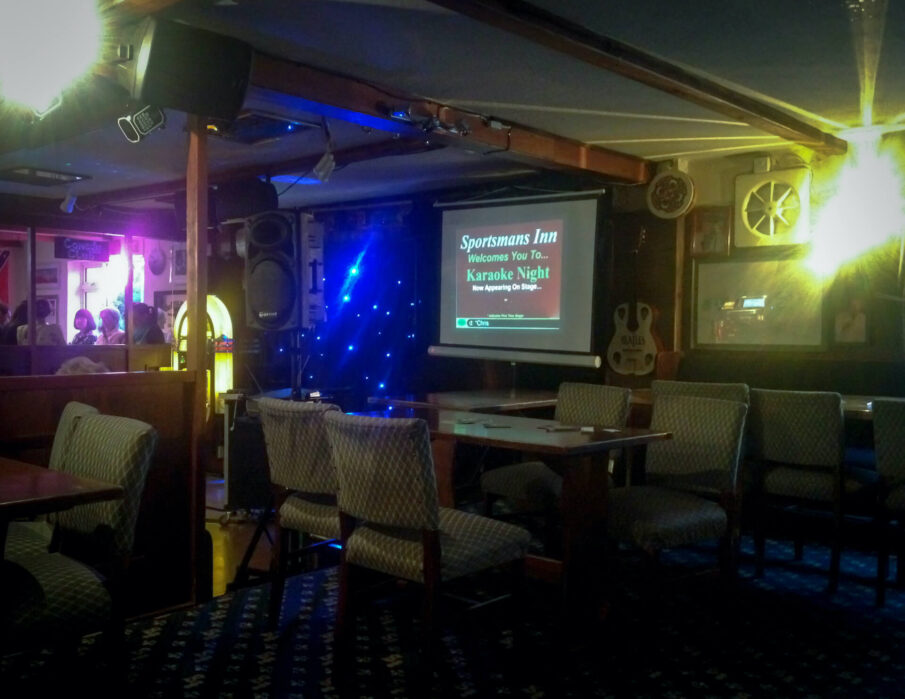 Day 2: Ivybridge to Scorriton
Sunday 23 June 2013
Day two saw us make the steep ascent from Ivybridge up on to Dartmoor. Inevitably on the moors it was very windy, though the rain held out for most of the day. There was a long stretch of old tramway, which was completely new to me. It was easy going, though very exposed to the elements! We managed to find shelter in some old tin workings for lunch.
It was today that Harvey really started to enjoy himself (and before somebody comments about dogs on the moors, as a working breed, he is very well trained and steered well clear of the animals). I would love to know how many miles he ran! However, being a silly border collie, he has irrational fears; 2 or which he had to face this day: bridges and water!
After leaving the tramway, the clapper bridge at Huntingdon Cross took him quite some time to pluck up the courage to cross (eventually he hurtled across it at 100 miles an hour!). Then almost immediately afterwards, Harvey had a dilemma. We were able to cross the brook on stepping stones, but Harvey had other plans! Despite the water being only a few inches deep where we crossed, he simply refused to go through it. After about 10 minutes of calling him and encouraging him to cross he finally decided to jump the brook at a narrower point upstream. The daft old thing smashed in to the bank on the other side and clambered himself up- he was unhurt and seemed rather pleased with himself (even if he had taken the more complicated and perilous route across!).
With Harvey with us again we were able to continue the final stretch to Scorriton. There were several crossing paths near Pupers Hill and inevitably we took the wrong one. We went off route slightly trying to get back to the track and ended up wading through boggy moorland (our boots were definitely muddy!). We eventually found the small bridge that took us off the open moor and onto the final descent down the track into Scorriton.
Steve and I stayed at The Barn [now closed], a charming B&B with lovely rooms, a gorgeous garden and a hearty breakfast; to be thoroughly recommended. Baldy Man and Harvey stayed close by at the Tradesman's Arms, a popular local pub, where we also stopped for dinner that evening.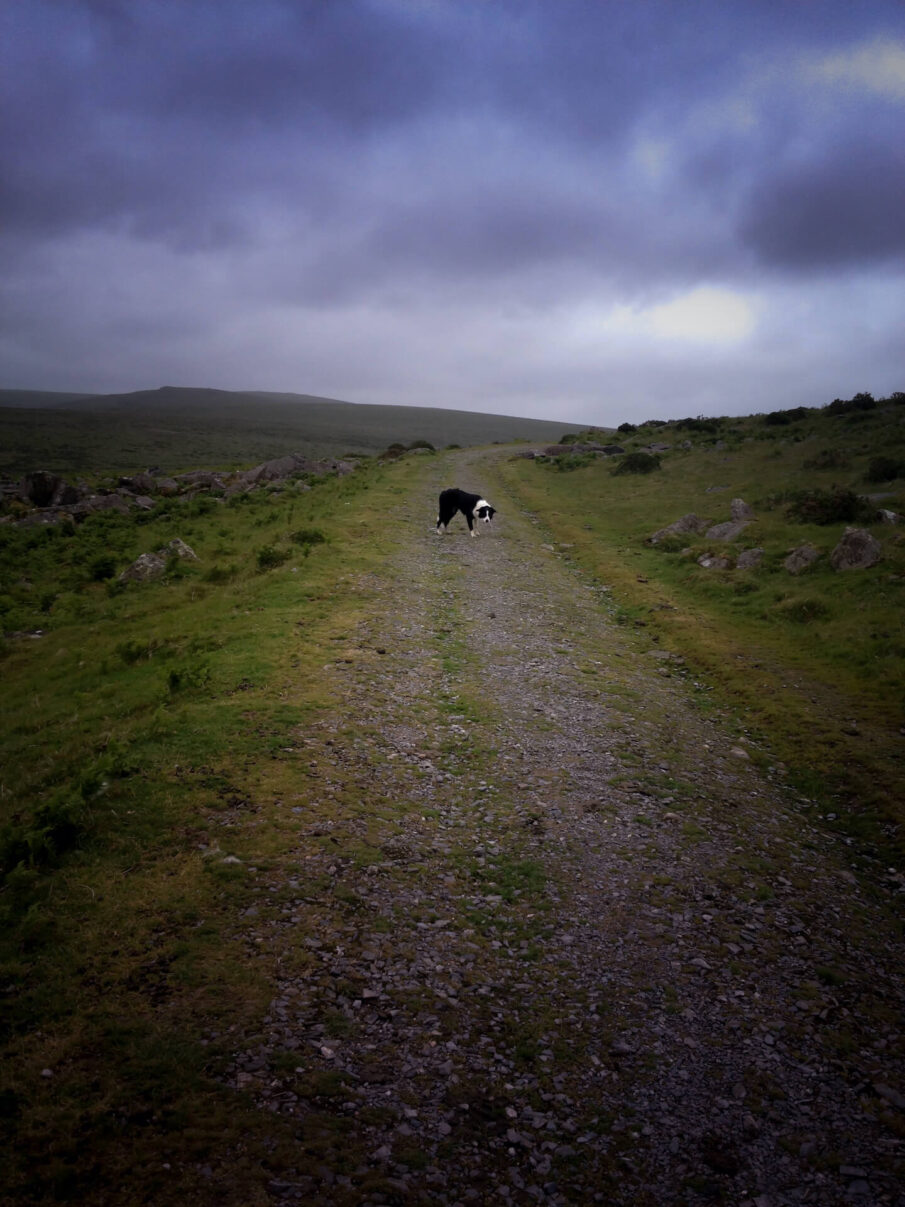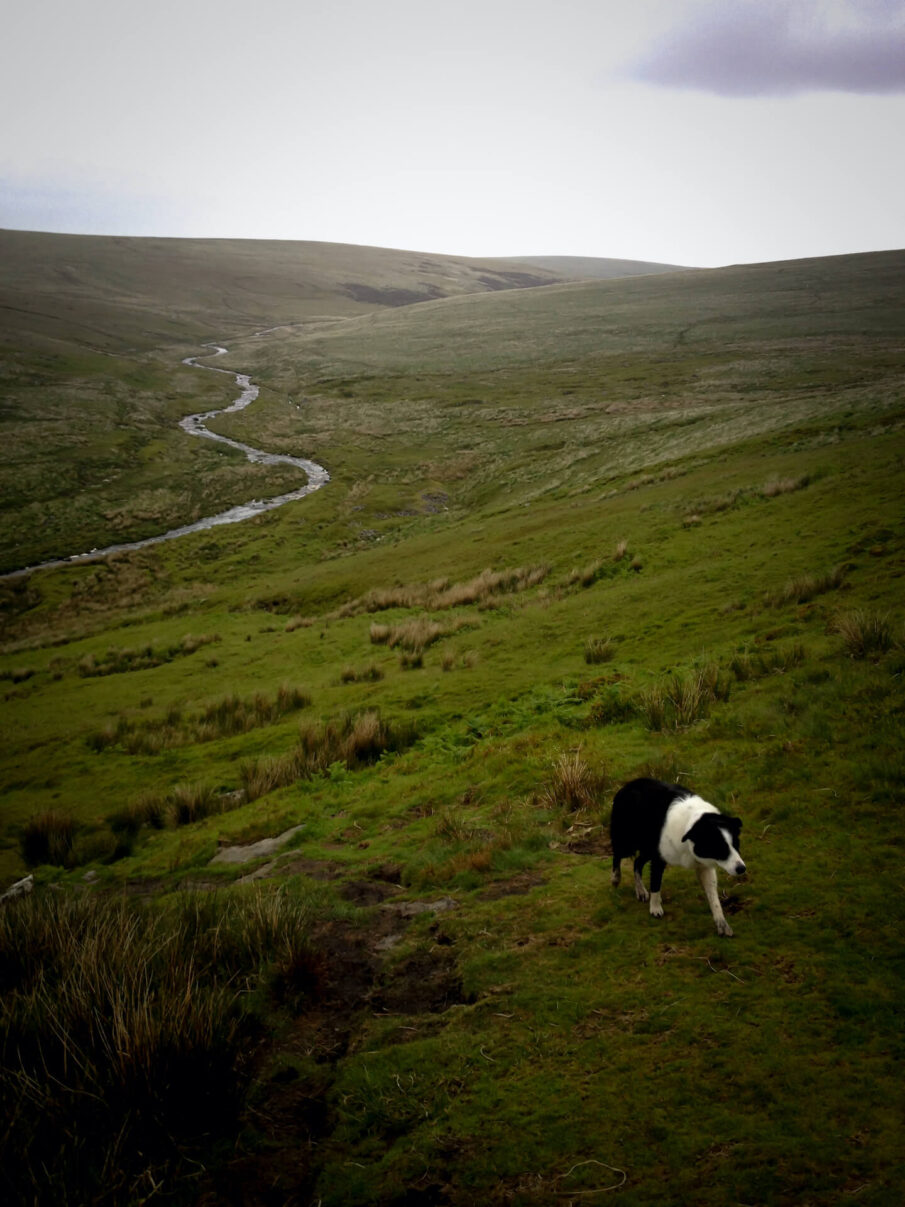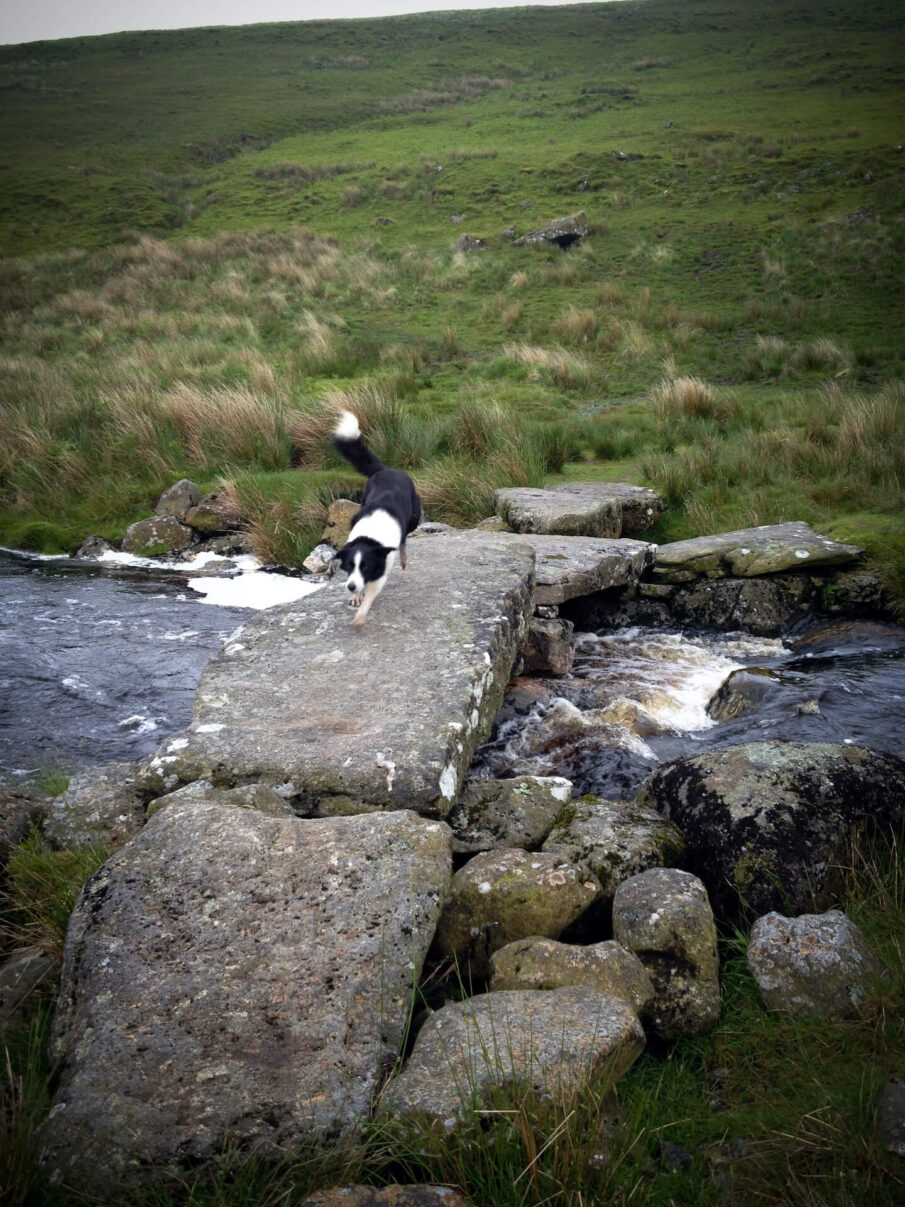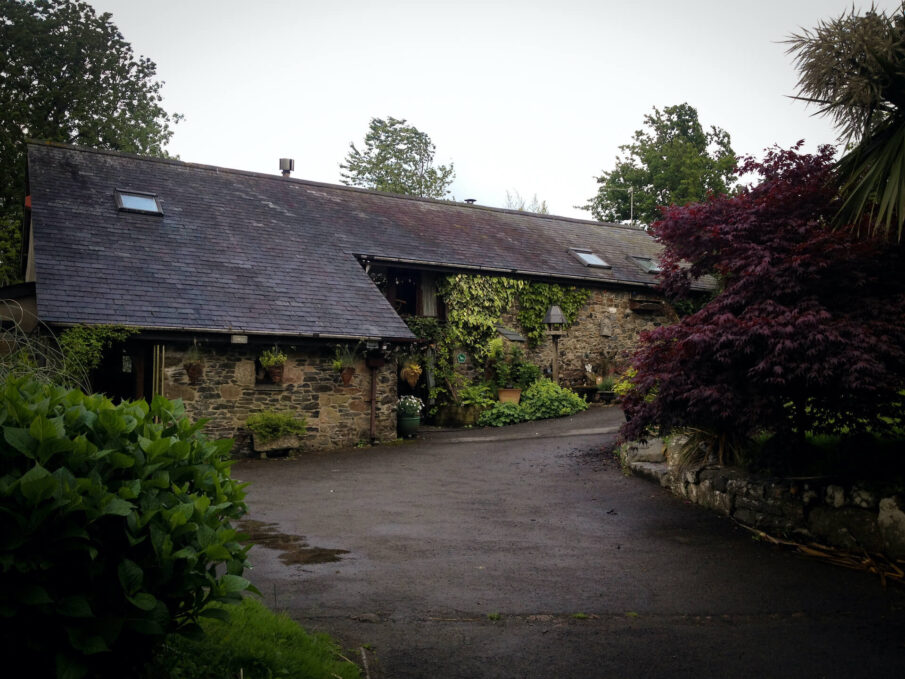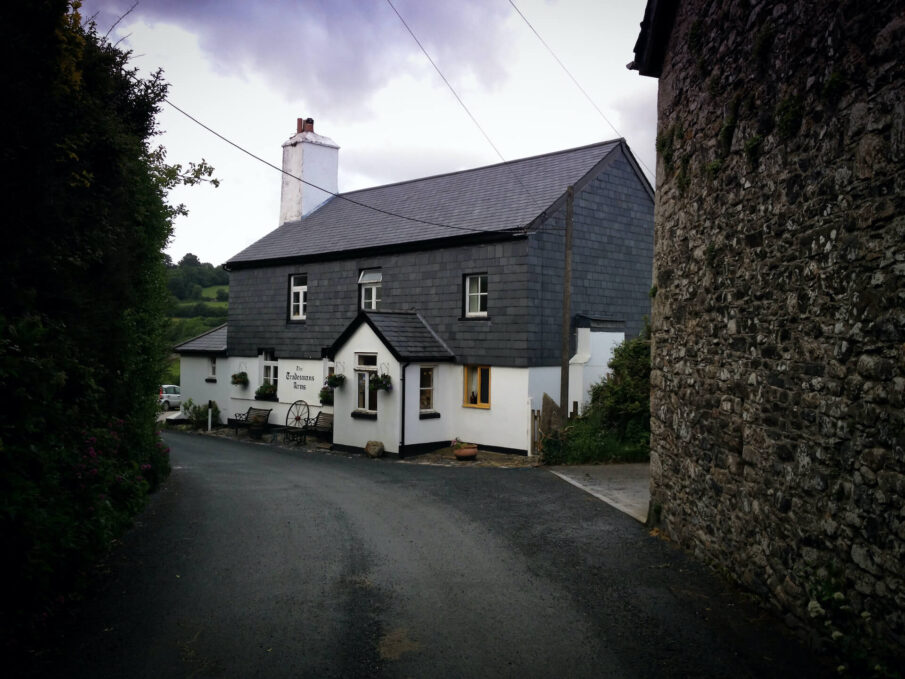 Day 3: Scorriton to Widecombe in the Moor
Monday 24 June 2013
We loved this day! This was for two reasons. Firstly, the sun finally came out for us! It seemed somehow fitting that the weather had been so bleak out on the open moor but in the greener, more picturesque landscape the sun had decided to join us. The second reason we loved it was that I had vastly underestimated the distance and we strolled in to Widecombe at around 3pm, giving us the afternoon to sightsee, have a nap and get a well earned pint at the local pub.
The walk itself was an extremely pleasant stretch, particularly the path between Leigh Tor and Bel Tor, where it winds its way along high above the gorge of the River Dart. We stopped at Bel Tor for a coffee and introduced Baldy Man to letterboxing (an old Dartmoor tradition- take a look if you've not heard of it). Here we unveiled our surprise; custom designed stamps of each of us (including Harvey!). Having stamped a couple of books and finished our coffees, we moved on.
We diverted just over a mile off route to get to our accommodation at Widecombe, and the extra mile is a very pleasant stretch of road that winds its way down into what is probably Dartmoor's most famous village.
Steve and I stayed at Manor Cottage, a charming little B&B in the heart of the village, whilst Baldy Man and Harvey stayed at Higher Venton Farm. For dinner we went to the Rugglestone Inn, which can be thoroughly recommended as a proper country pub. Extremely popular with the locals, with a decent beer garden and classic pub grub, it is to be recommended over the Old Inn, which doesn't have the same authentic feel (though is still worth a visit if you've time).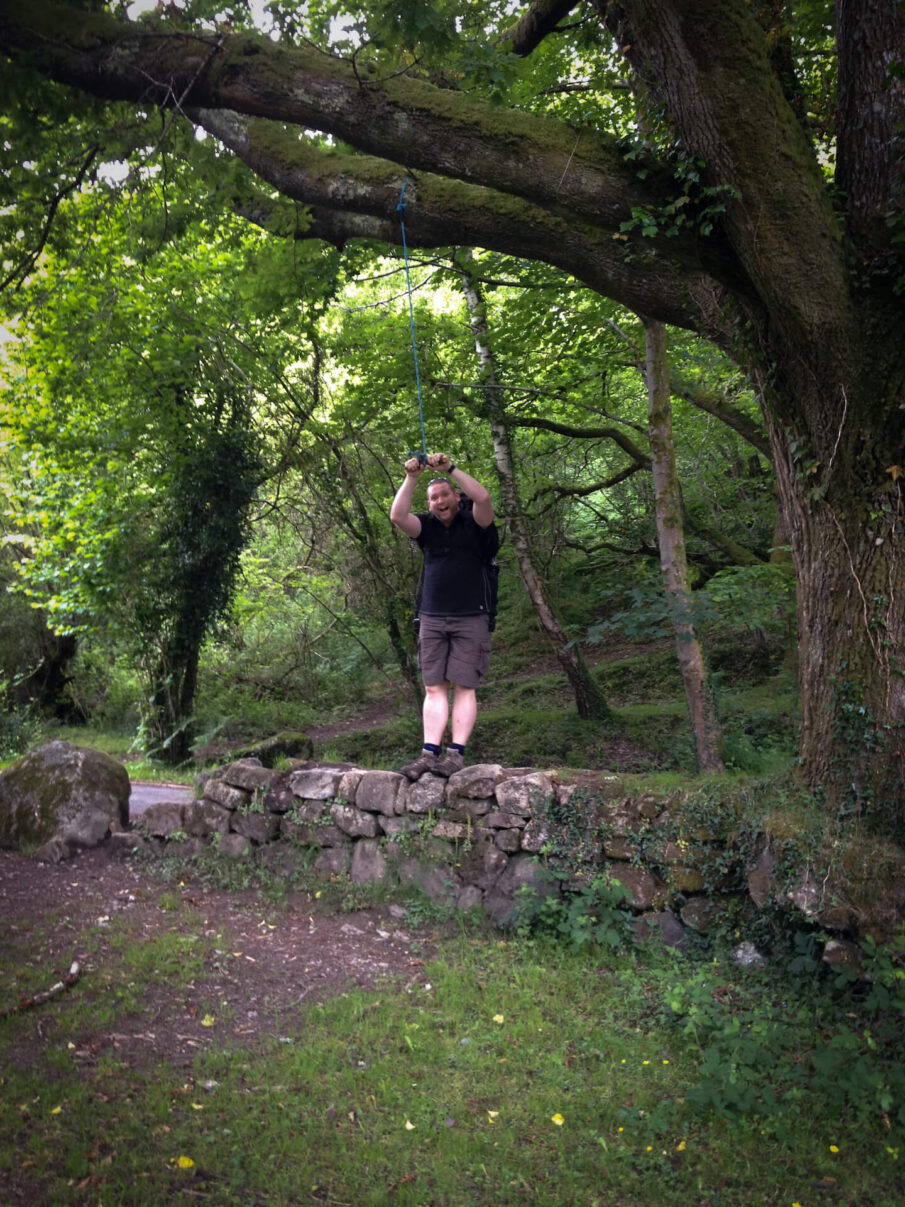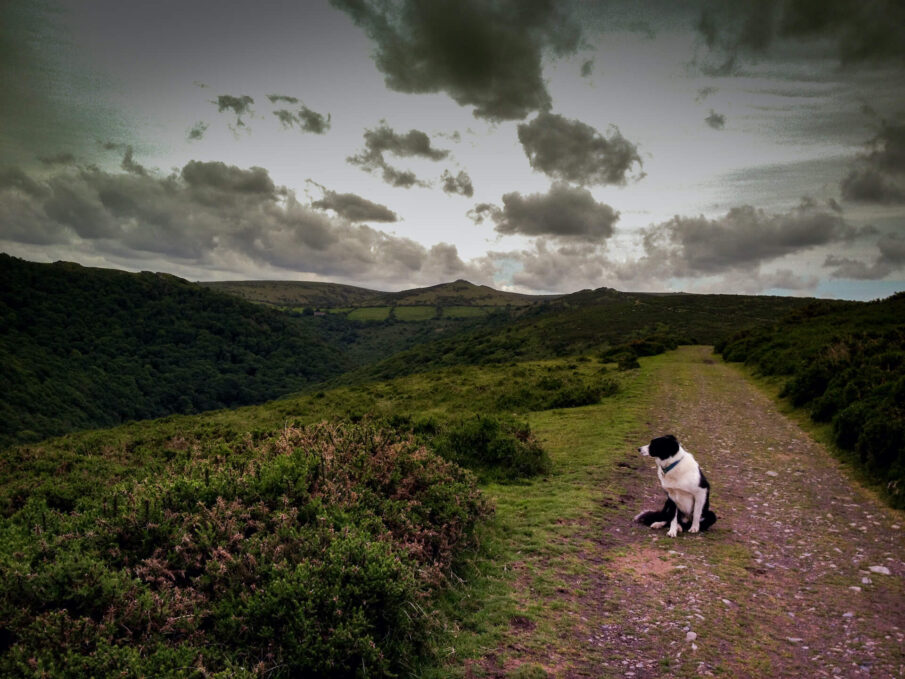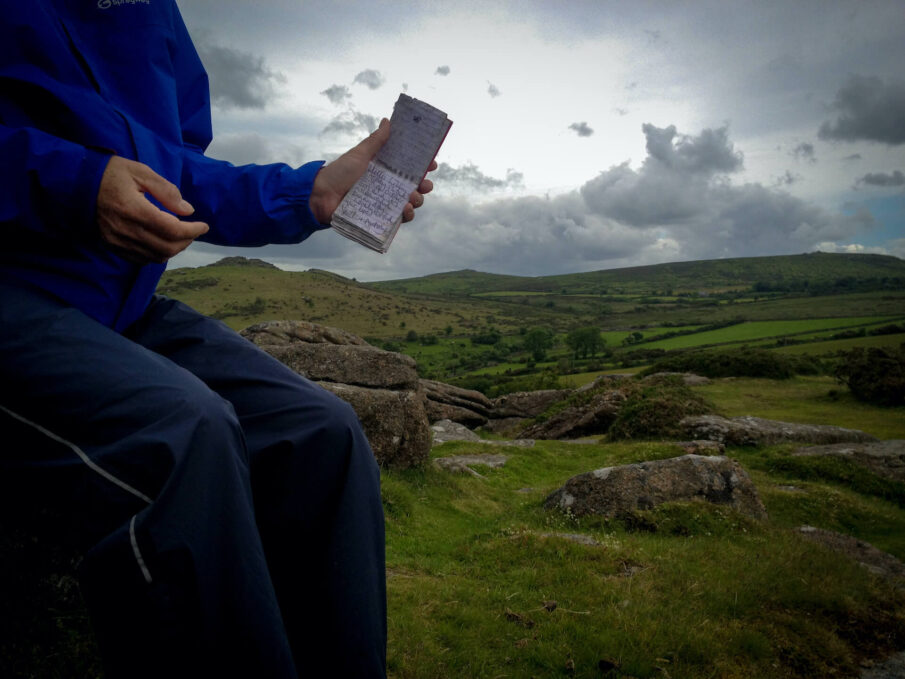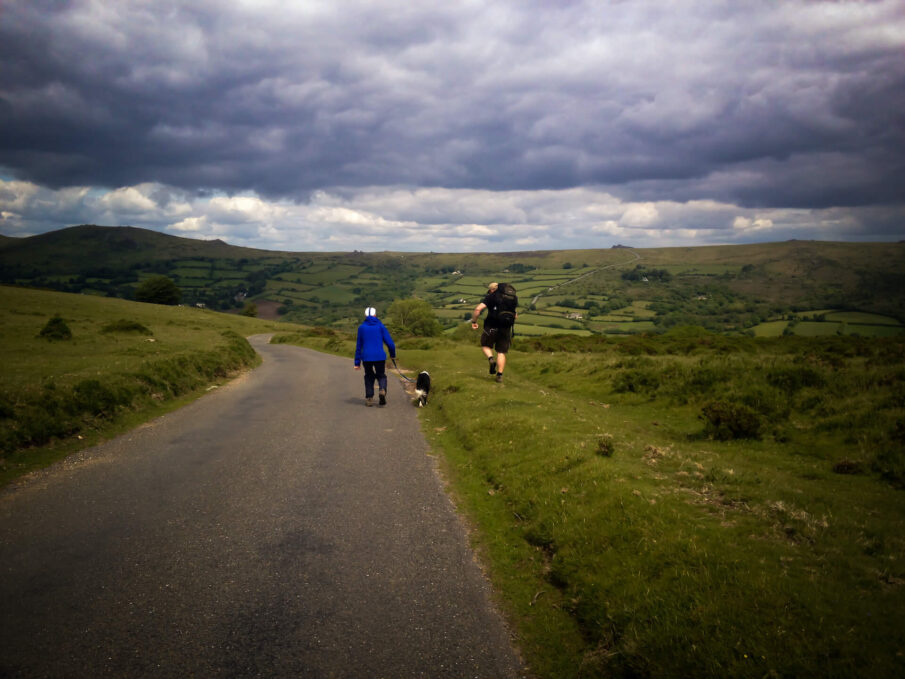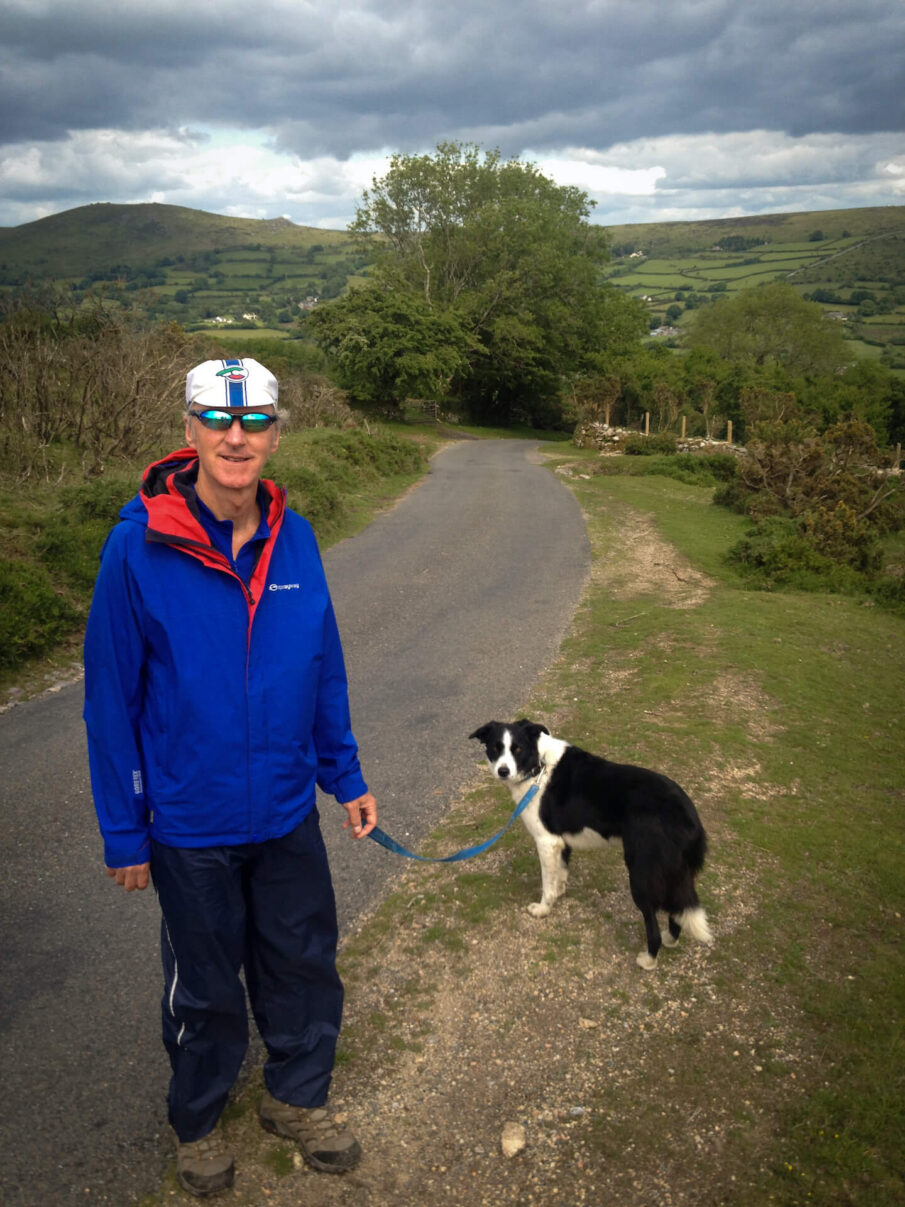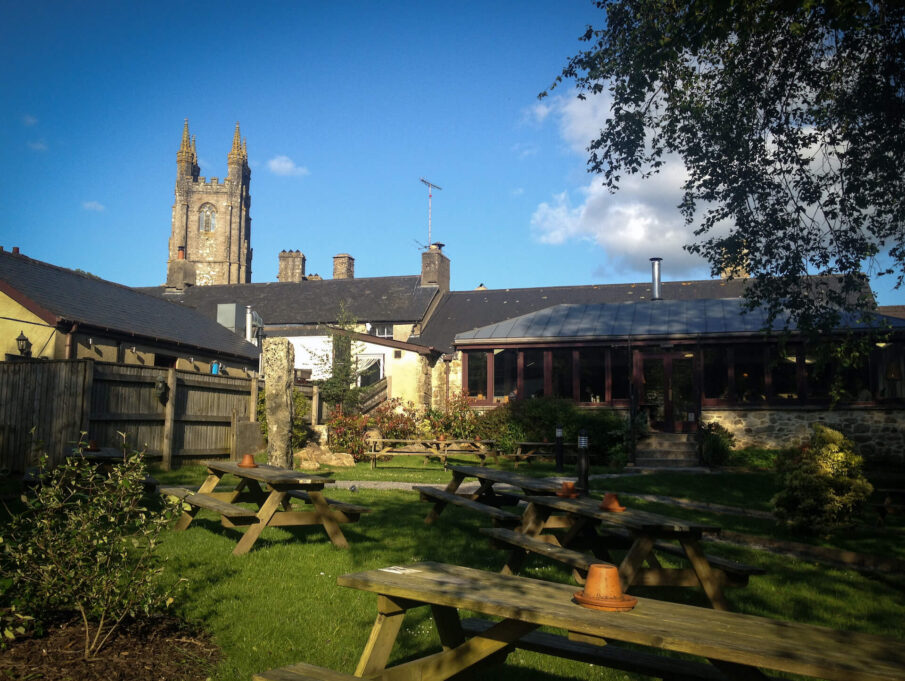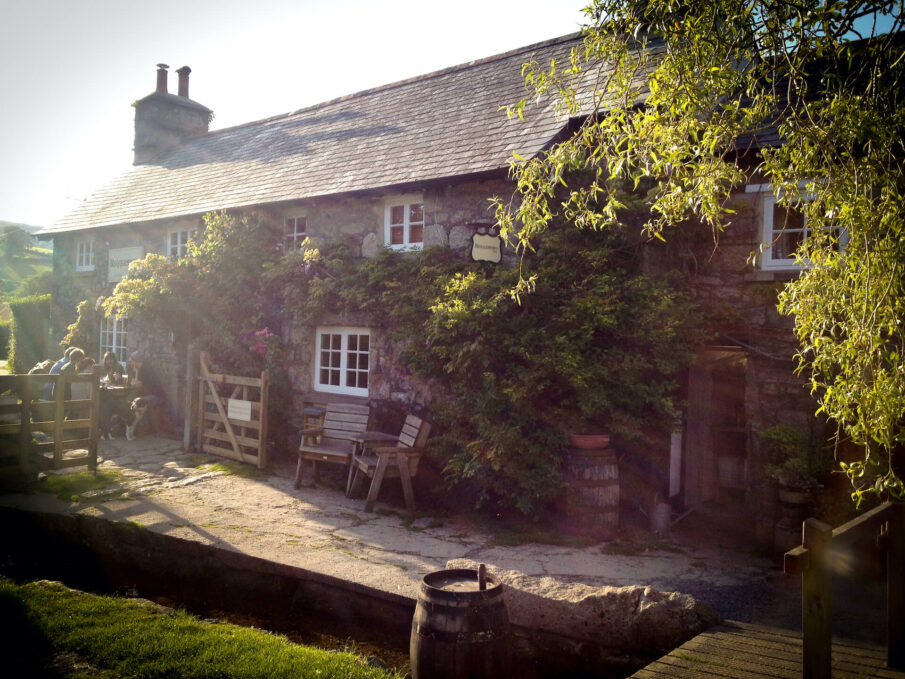 Day 4: Widecombe in the Moor to Sandy Park
Tuesday 25 June 2013
Another sunny day! We made the short but steep climb from Widecombe back up onto the moor and were rewarded with a spectacular stretch of walking. The views were fantastic around Hamel Down and we stopped for our first coffee of the day at Hookney Tor, looking down on the impressive Bronze Age enclosure of Grimspound. Incidentally, we also found another letterbox here!
We crossed the road at Bennett's Cross, close to the Warren House Inn, which was a real milestone for me. This is the main road between Moretonhampstead and Princetown and it pretty much cuts Dartmoor in half. It's a road Steve and I had driven countless times in the past and crossing here was a refreshing reminder of just how far we had come.
Given the bleakness of the landscape from the road (charming in its own way), I was surprised to find how quickly the landscape changed to lush green fields and farmland, particularly once we joined the Mariners' Way at Fernworthy. Eventually, after Teigncombe, we had a long stretch of riverside walking, just bypassing Chagford, until we reached Dogmarsh Bridge. From here we had a very short diversion off route to stay at the Sandy Park Inn.
The room was basic but had everything we needed. The most exciting thing for us was relaxing our muscles in a hot bath- it was bliss! The pub was quite small but the staff were friendly and the food was great. It was clearly popular with the locals and was very dog friendly! It was during our evening here though that we started to worry about Harvey. He'd always been a very active dog and was used to regular exercise but the long days had started to take their toll on him. He was very stiff and was hobbling about. We all went to bed worried about if he would be able to continue and had talked about Baldy Man potentially pulling out of the rest of the walk if Harvey hadn't improved by morning…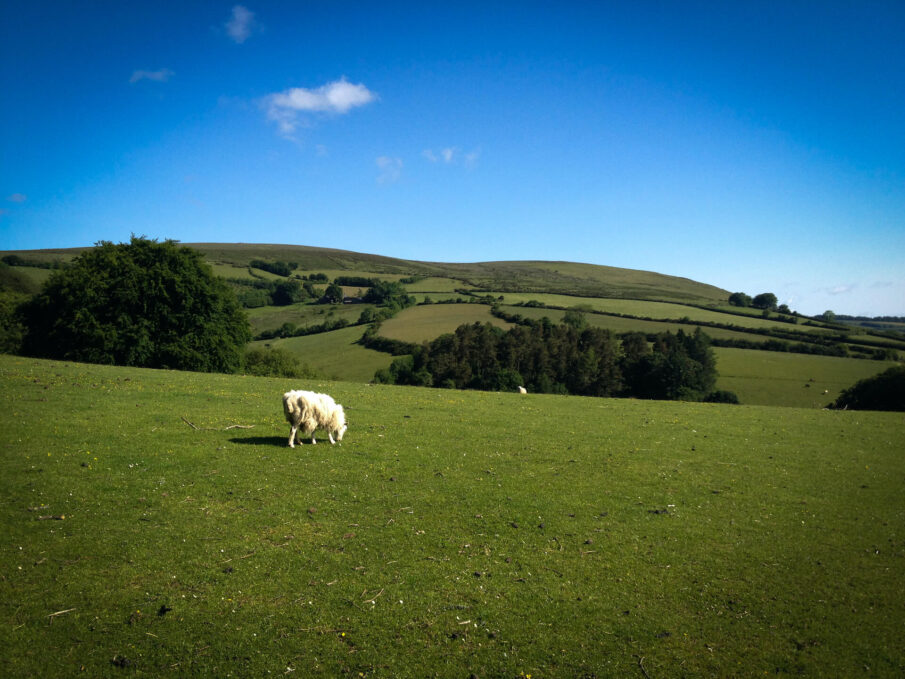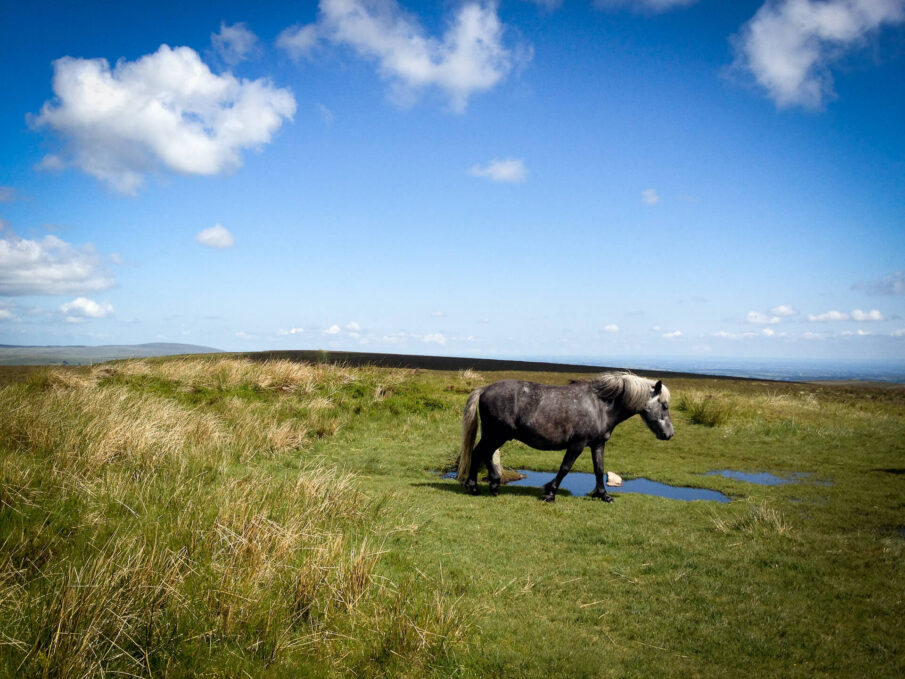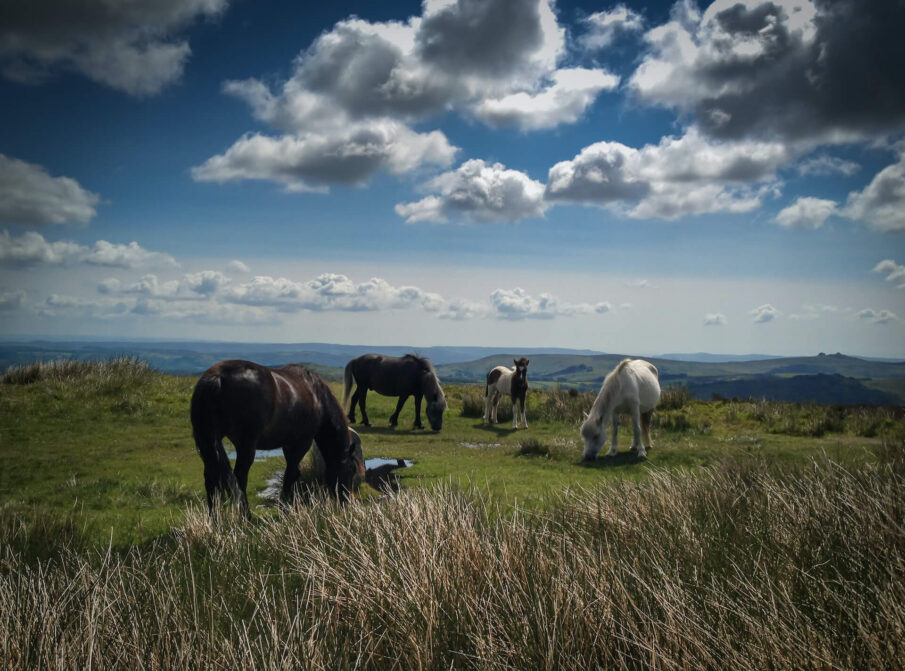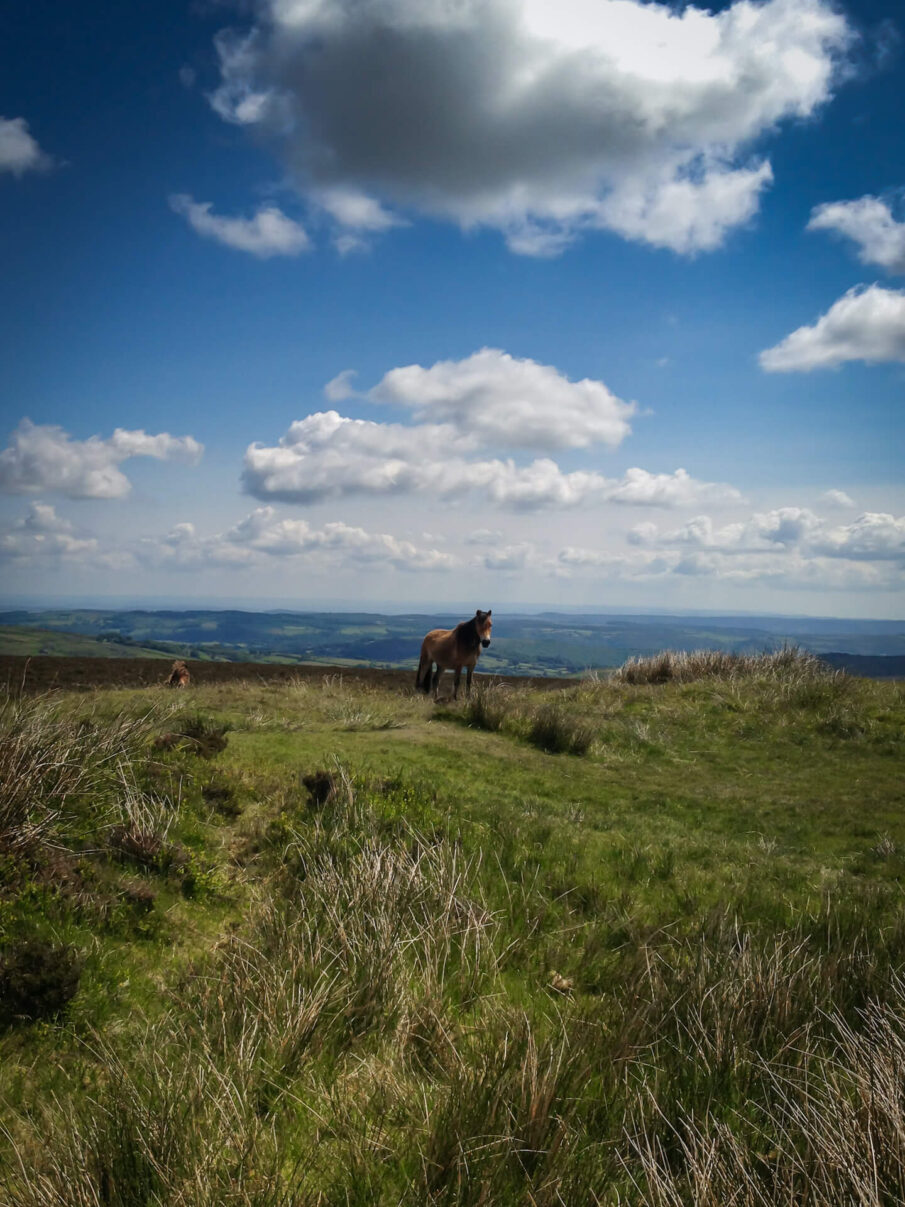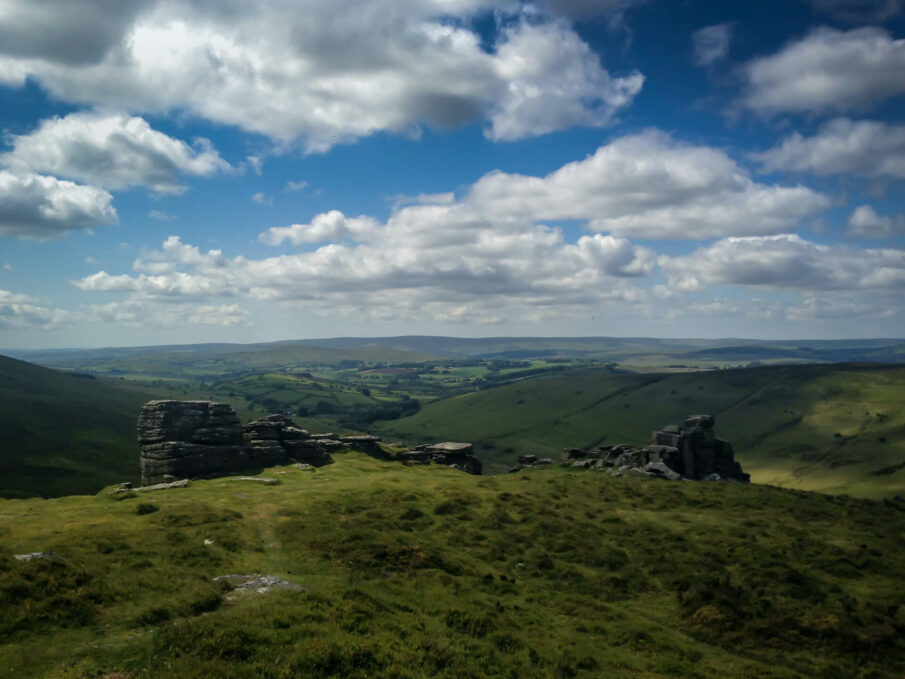 Day 5: Sandy Park to Morchard Bishop
Wednesday 26 June 2013
We awoke and thankfully Harvey seemed back to his old self! The body's ability to heal itself after a night's rest really is amazing (which is just as well because day five was going to be a long day!). It started out well; Steve and I already knew the stretch past Castle Drogo well, having walked it several times before, but it was new to Baldy Man. We stopped at the shop in Drewsteignton to pick up provisions for our lunch and soon reached the memorial stone to local rambler, Joe Turner.
Joe Turner was responsible to helping to maintain the Two Moors Way for several years and two stones were erected following his untimely death in 2004. The first is located on the northern edge of Dartmoor and the other on the southern edge of Exmoor. The unusual looking stones face each other across the expanse of Mid Devon.
Shortly afterwards we crossed the A30, marking our exit from Dartmoor National Park. We had done it- we had walked across Dartmoor! Following a short stretch through fields there was a very long stretch of the walk on road. Throughout the rest of the day there were several stretches on roads and it was for this reason we didn't really enjoy day 5. Walking on the road is tougher on the feet, it's slower going, there isn't the same level of scenery and Harvey had to stay on a lead. All in all it wasn't much fun.
We stopped for a coffee break and sheltered from a passing shower at around 3pm in a short stretch of woods just before the Exeter-Okehampton railway line. On consulting the map we realised that we were only about half way through that day's route. This for me was the low point of the walk! I was losing the will to go on and had so little enthusiasm.
We ploughed on regardless and thankfully the scenery did improve for a bit. There was a pretty stretch through fields and past a farm before we reached the lovely Clannaborough Church, where we stopped for another coffee break. The last stretch seemed to take forever but eventually we arrived at our accommodation in Morchard Bishop shortly after 7pm.
We stayed at Shippens, a bed and breakfast in the home of a very sweet 92 year old lady. She had taken it upon herself to book us a table at the local pub, the London Inn, for dinner and we were very grateful! By this point we had built up quite an appetite, which was just as well because the portions were absolutely humongous! With a couple of pints and a big meal down us, we went back and rested up, hoping our aching feet and muscles would ease up by the next morning.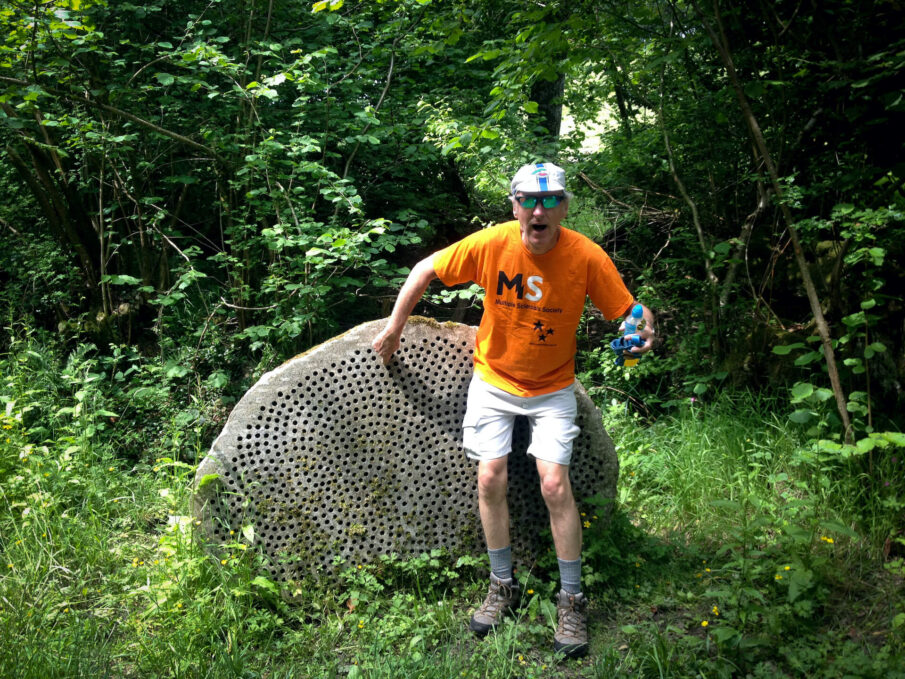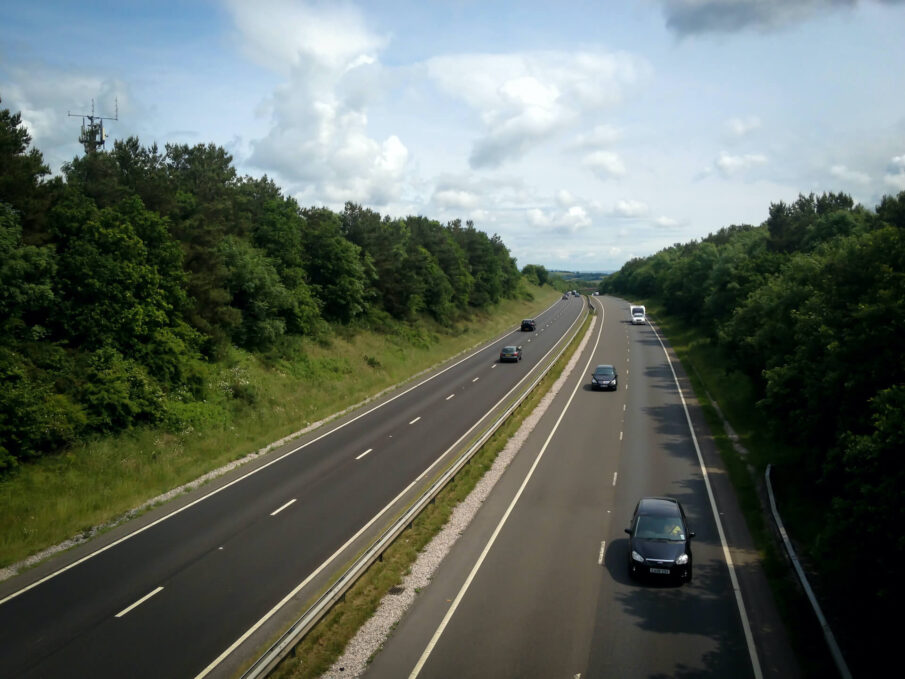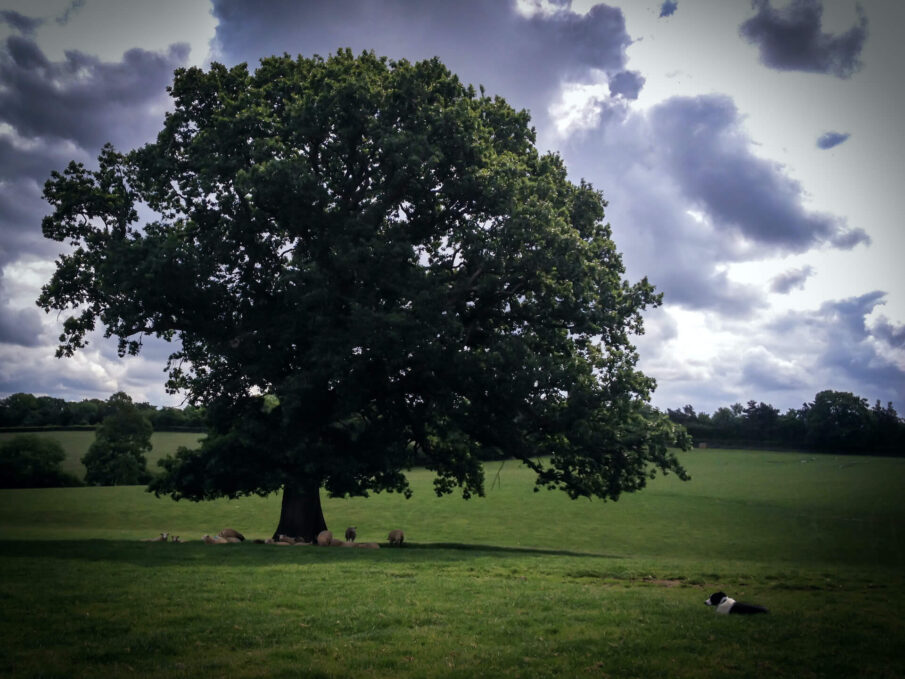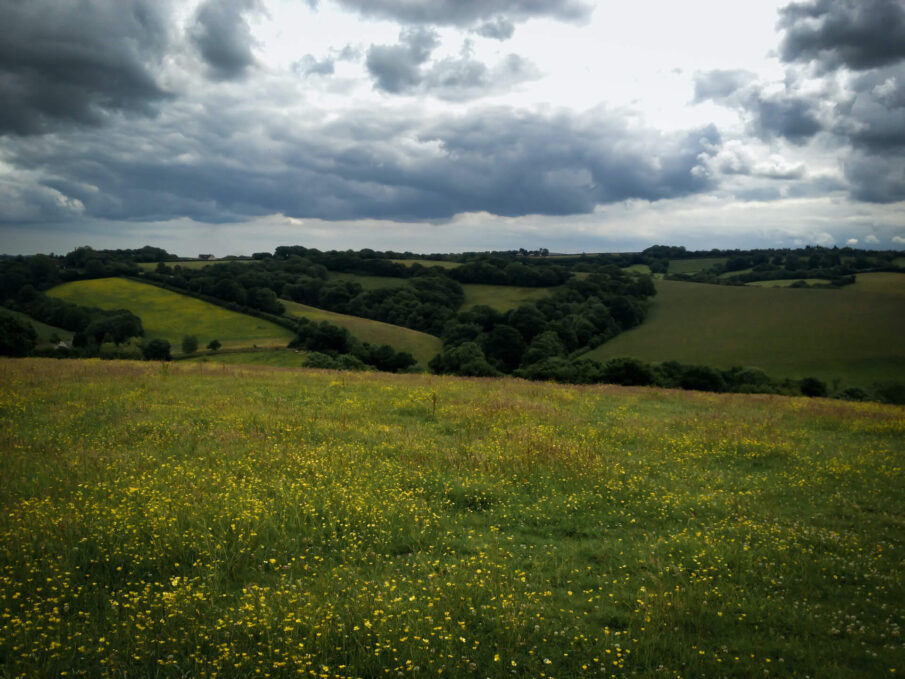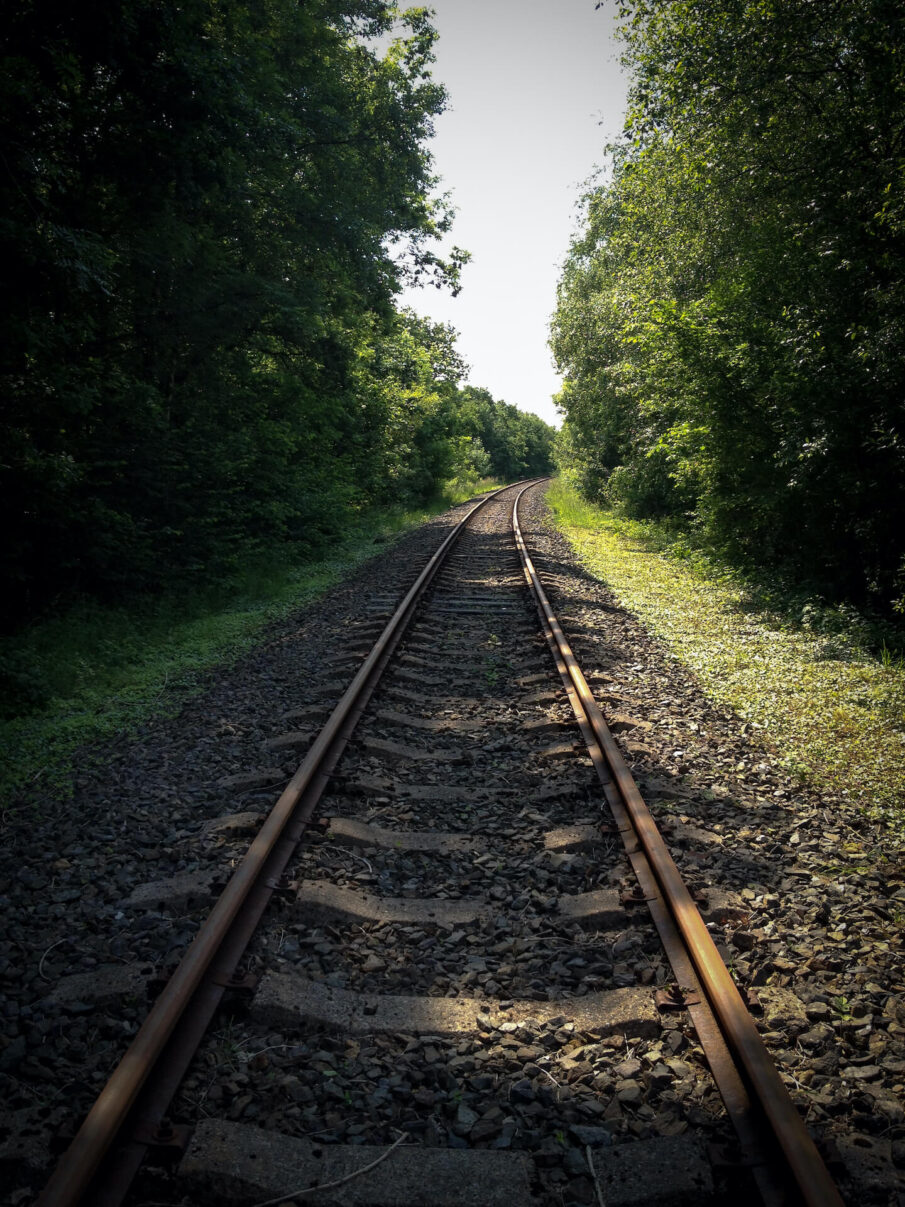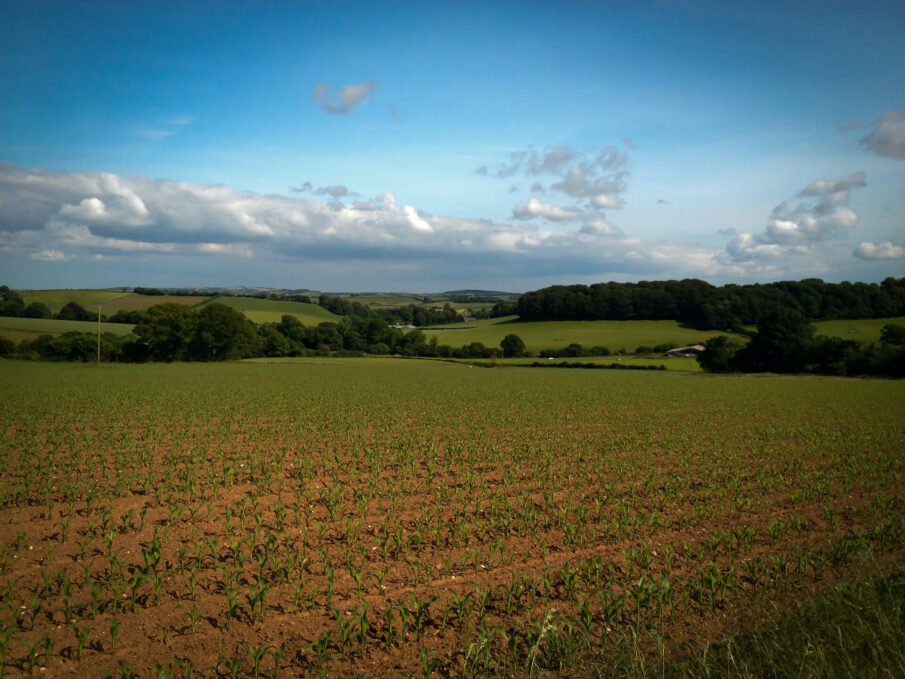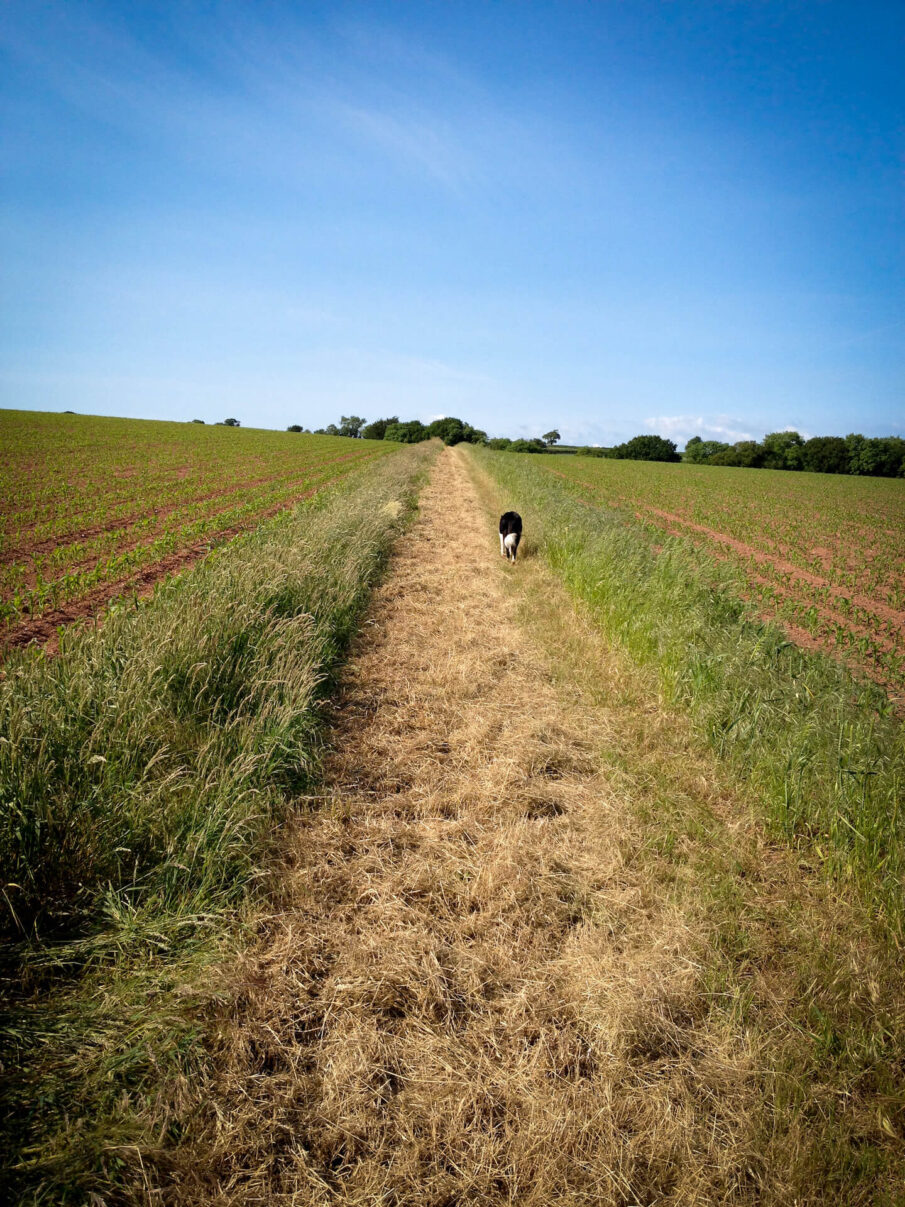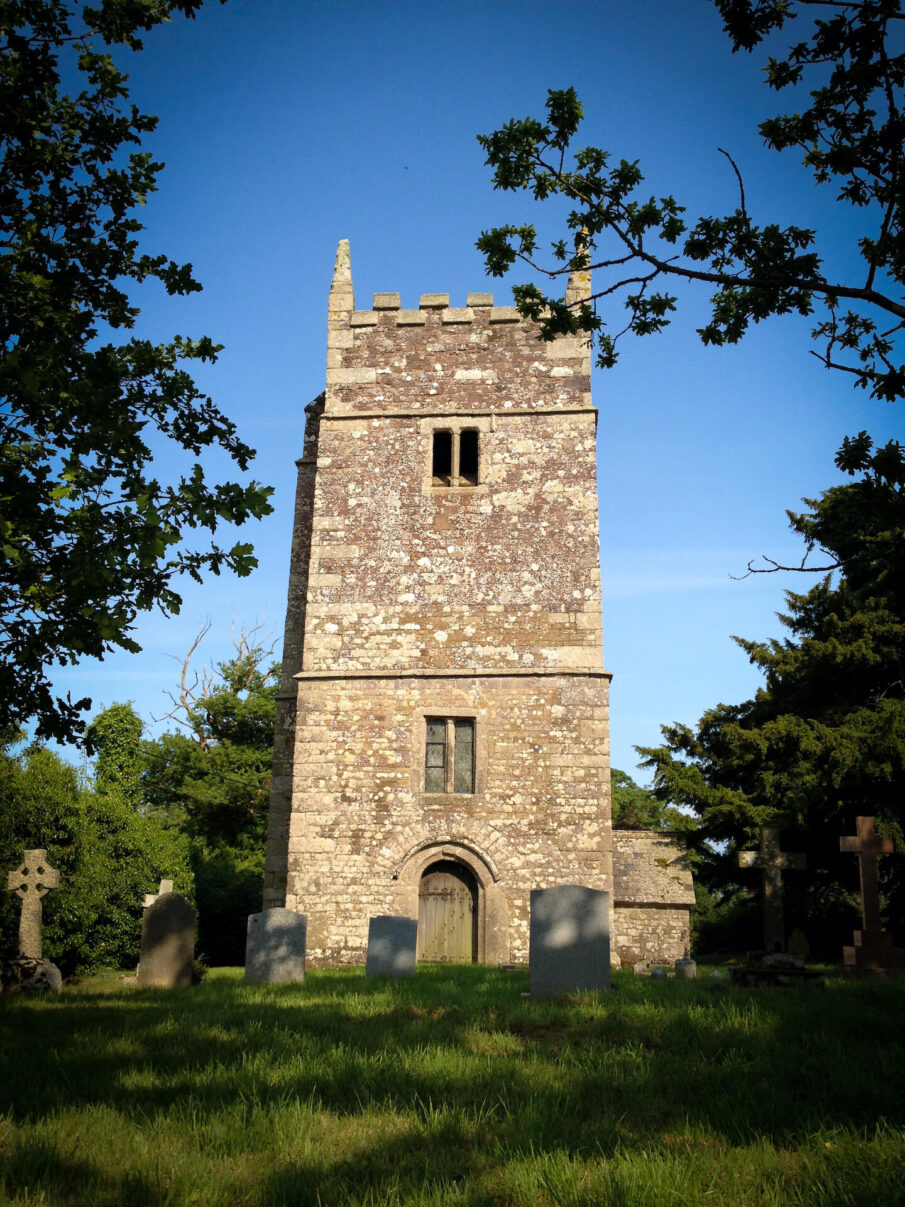 Day 6: Morchard Bishop to Knowstone
Thursday 27 June 2013
After a tough previous day, on the morning of day 6, we received an unexpected boost to morale: I was pregnant! Steve and I had been trying for 9 months to conceive with no joy and we had become accustomed to seeing the negative result on the pregnancy test. It was in the B&B in Morchard Bishop that we finally saw this change with the results telling me I was 2-3 weeks pregnant- we were overjoyed!
With a good breakfast behind us, we set out for the day. It was once we left the village and made our way into the open fields that we let Baldy Man know that he was going to be a Grandad (or Grand Baldy Man!). He was thrilled. We had to wait until we got to Witheridge to get good enough mobile signal to phone the rest of the family to tell them. What a happy day!
The walk itself was unremarkable. There were some more long stretches of road and the weather got greyer and more drizzly as the day went on. But I was pregnant so I didn't need anything to lift my spirits! The day was characterised by phrases such as "do you remember that time when I found out I was pregnant?!"- it didn't get old (not for me anyway!).
That evening we stayed in an absolutely gorgeous B&B called Rosemary Cottage. The couple who owned it were fantastic and we instantly were made to feel right at home. The house was lovely- the rooms were really comfortable and we were allowed to dry our wet boots in front of the Aga. We had booked in before Baldy Man and by the time he booked they did not have room for him and Harvey in the house. But all was not lost as he was able to have a room with a difference- he stayed in 'Lolly', a much loved, beautiful Volkswagen Camper!
For dinner that night we had planned to go to the Masons Arms and it being a Thursday night we hadn't deemed it necessary to make reservations. What we hadn't realised though, was that it was a Michelin Starred restaurant (one of only two in Devon) and is busy all week round! Thankfully, Sara from the B&B knew the owners and phoned and pleaded on our behalf. They were able to fit us in provided we ate in the bar area and arrived half an hour before the rest of the restaurant opened. We were happy to oblige! The food was expensive as you'd expect, but it was also fantastic. There were unusual combos of flavours that you would never think to try but really worked. All in all, it was a fitting place for a celebration, given the day's news! No wine or beer for me anymore though!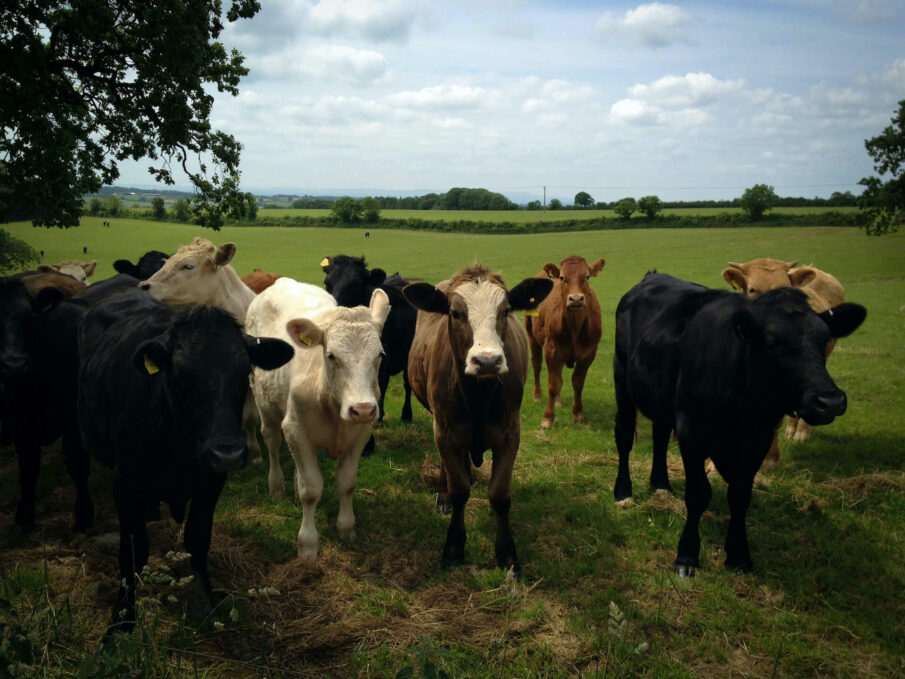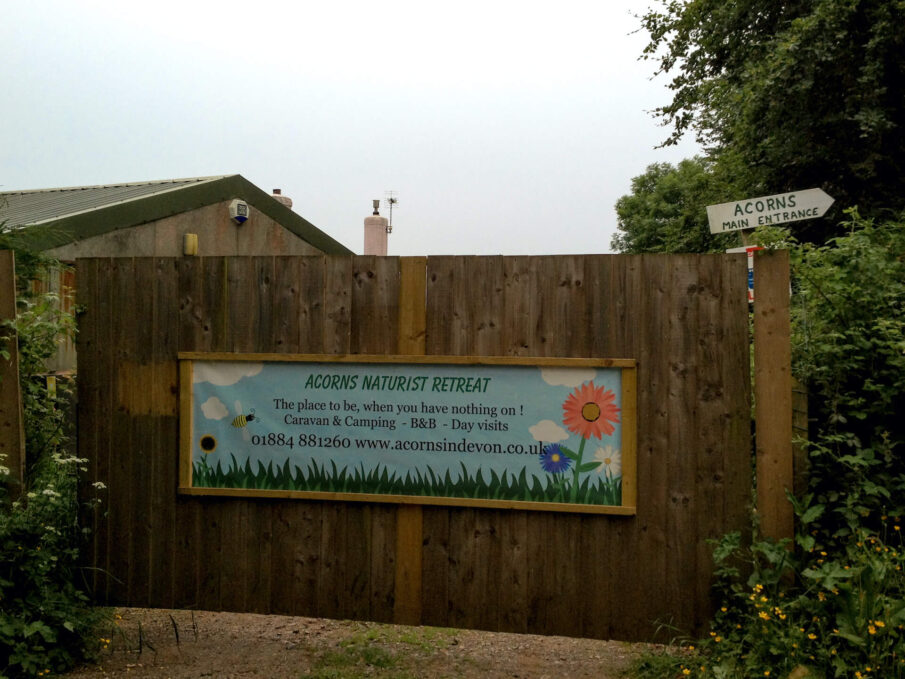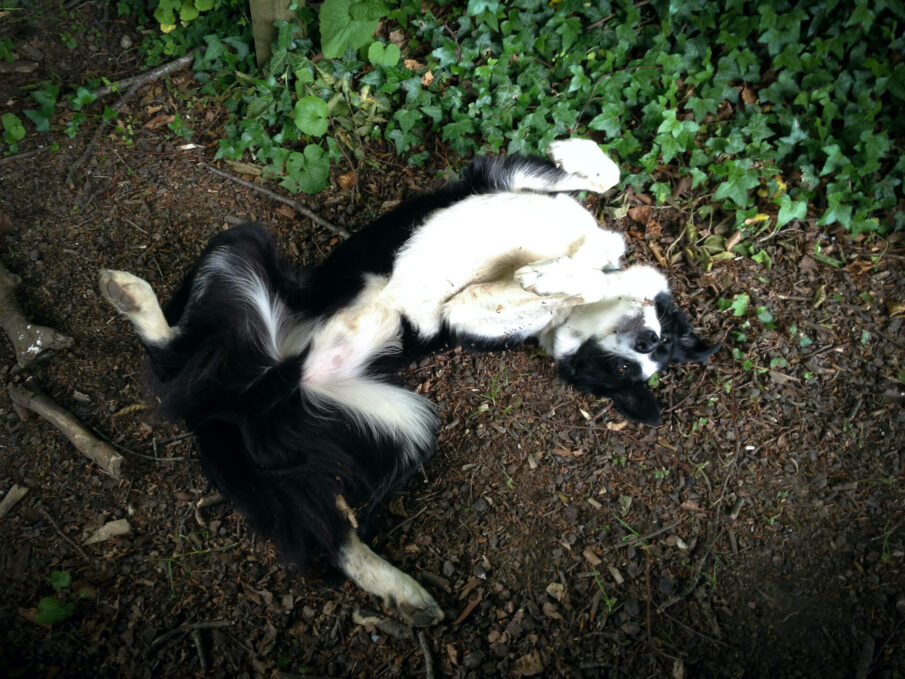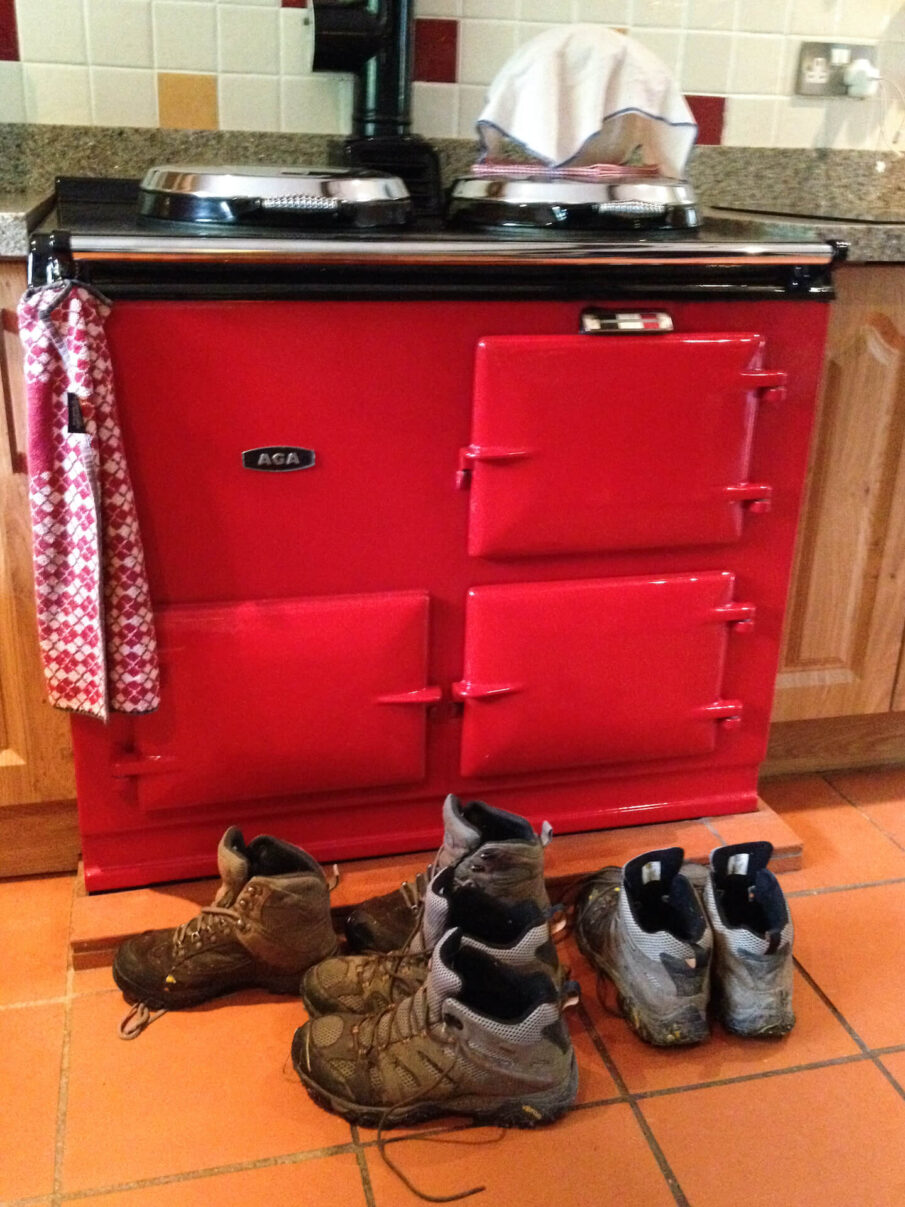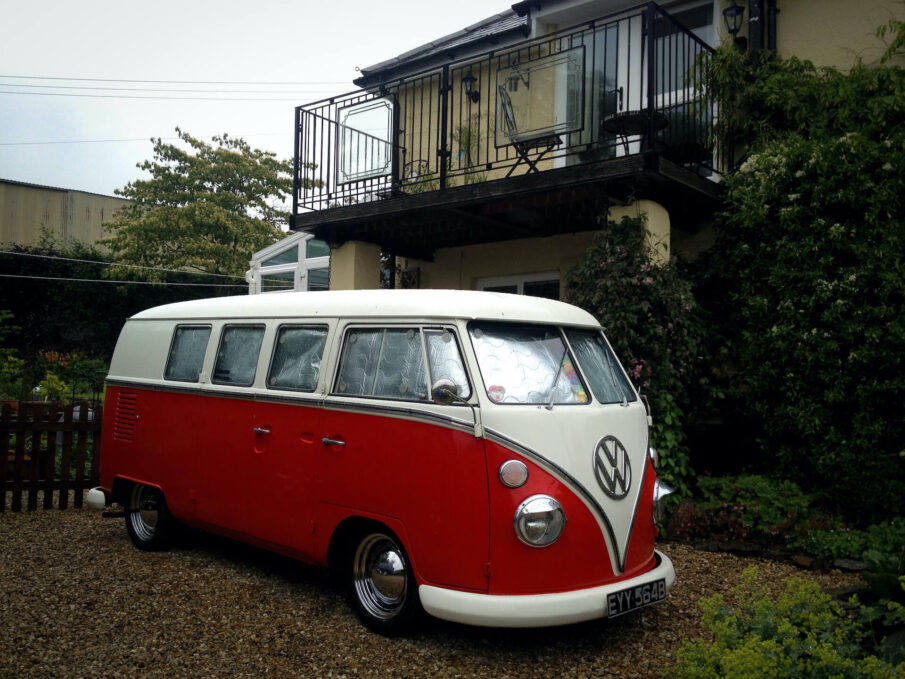 Day 7: Knowstone to Withypool
Friday 28 June 2013
We left Knowstone and made our way through woods, fields and roads towards Exmoor. We passed through a field of wild flowers and were amused to see Harvey in his element, bounding about and jumping continuously to see above the tops of the flowers. He was a very happy doggy!
After a short but steep climb up the road at West Anstey we were suddenly on the open moor and were greeted by the second commemorative Two Moors Way stone, stood facing the other we had passed near Drewsteignton on Dartmoor. We got the impression that the views here on a clear day would have been magnificent but unfortunately we were shrouded in mist and couldn't see much at all!
After Hawkridge, we made our way down to Tarr Steps, an ancient clapper bridge crossing the River Barle. It's a fantastic spot, popular with day-trippers (or as Steve and I affectionately call them, 'flip-floppers'). We stopped here on a bench for lunch looking out at the river and the bridge. There was a pub/restaurant/hotel here called the Tarr Farm Inn. We didn't get to visit it this time, but hopefully we will at some point in the future (perhaps as flip-floppers ourselves!).
The last stretch of the walk to Withypool was a very pleasant, easy woodland walk along the river. At Withypool we made our way to the Royal Oak where we would be staying that evening. The rooms themselves were fine, but I didn't really rate the accommodation for two reasons.
Firstly, we didn't receive a particularly warm reception and staff were quite slow to get us checked in and to our rooms. The second reason was that they didn't think to tell me that there were workmen on the roof undertaking repairs. There was no blind in the bathroom, which I didn't think would be a problem as the window only looked out onto a flat roof outside. Around 5 minutes into my bath a group of workmen congregated outside the window for their coffee break; it was at this point I started to regret my decision to have a soak! I was stark naked, in full view and extremely unimpressed! Not exactly what I'd call a relaxing bath.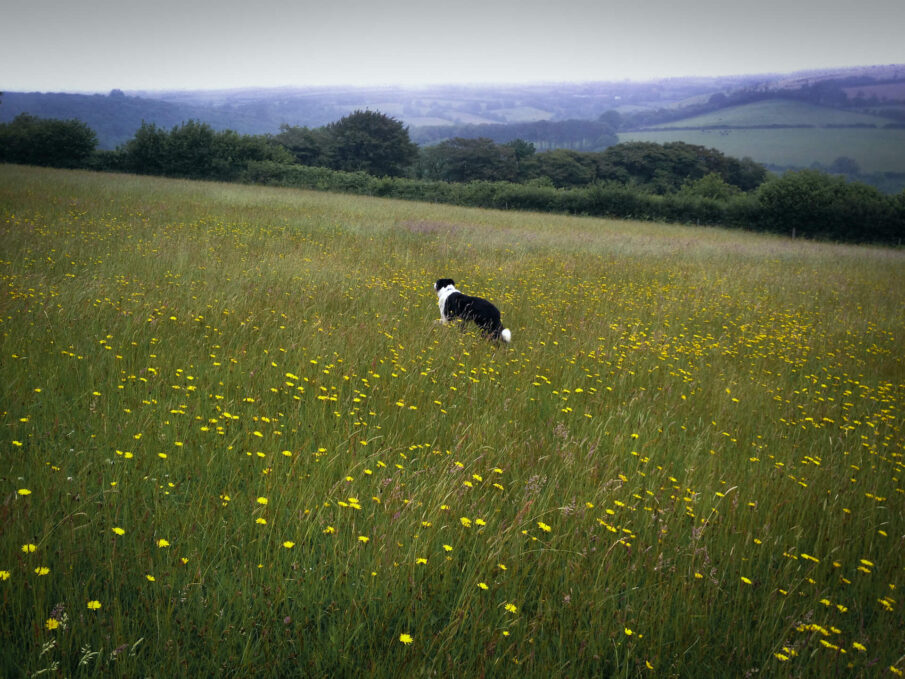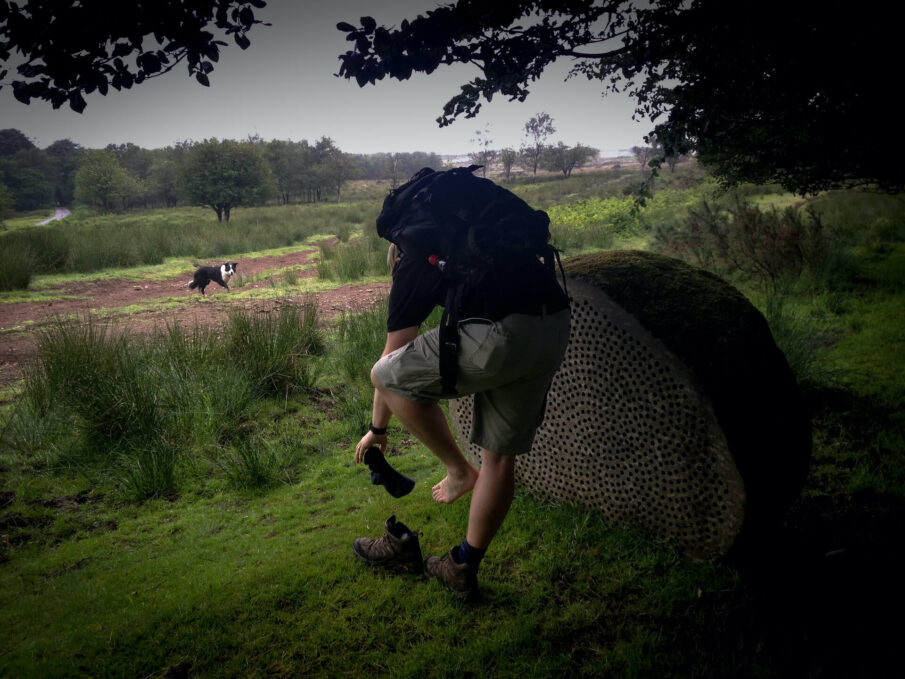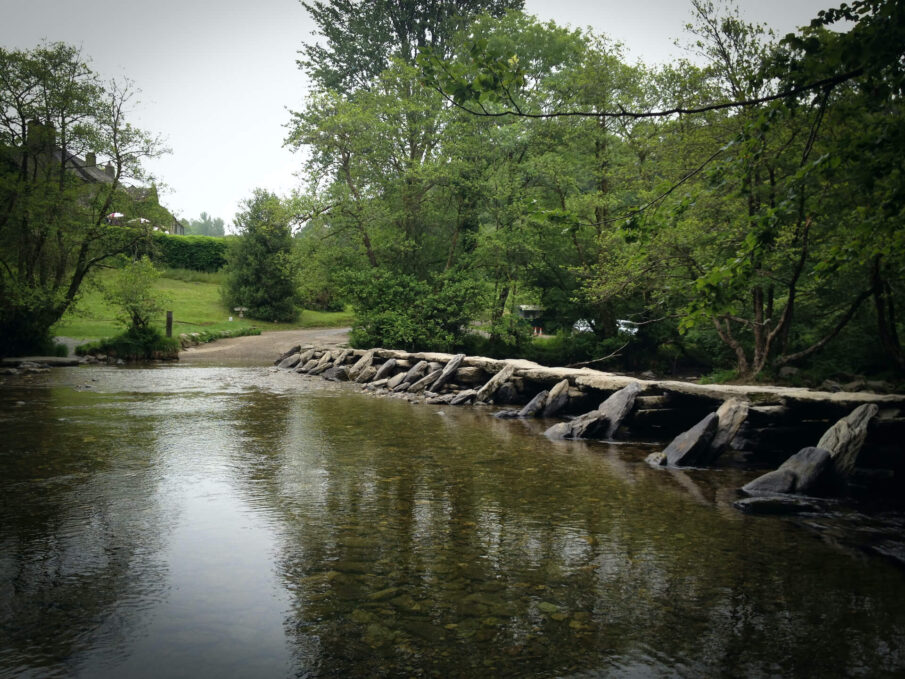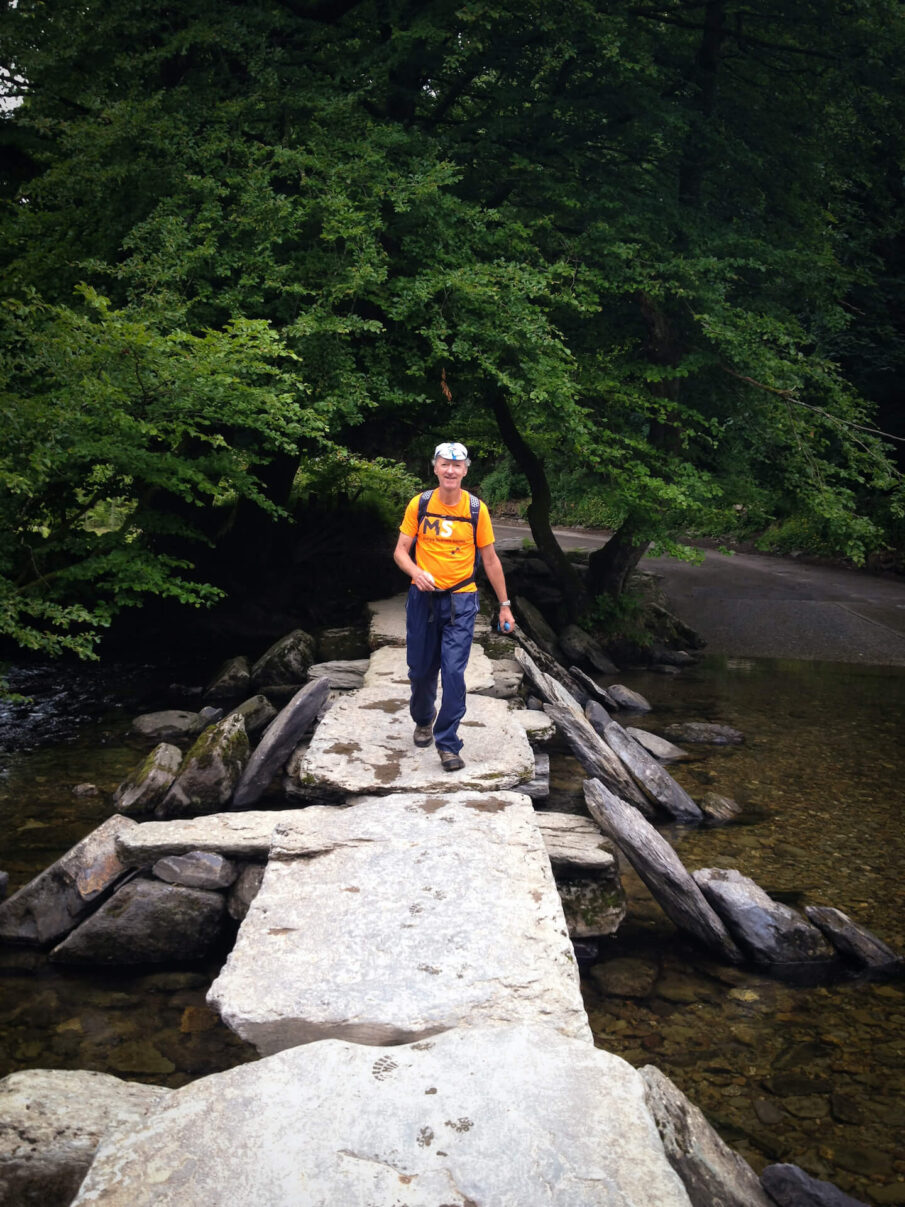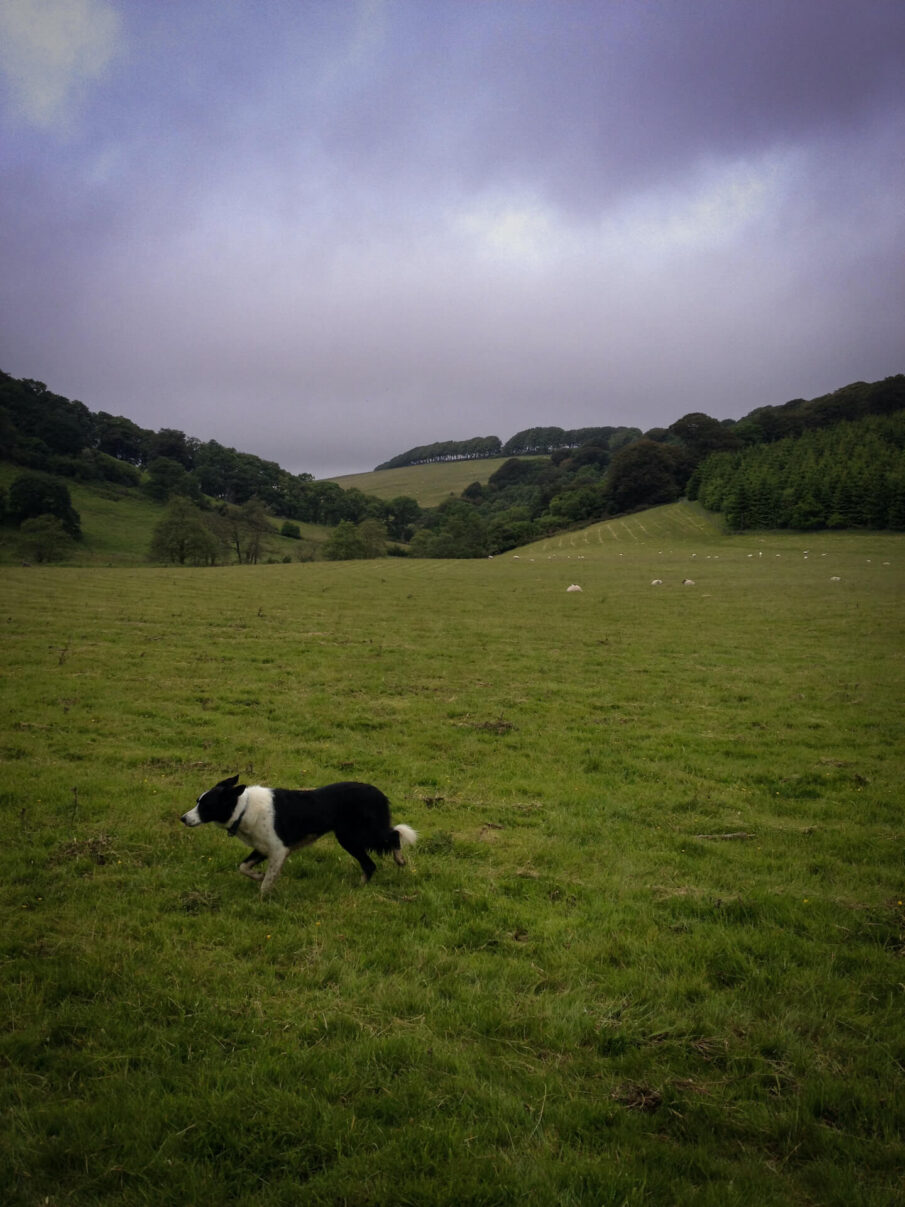 Day 8: Withypool to Lynmouth
Saturday 29 June 2013
The final day! Sadly it started out on a bit of bad note. Steve and I had a bit of a minor marital tiff just before we left the hotel (poor Baldy Man- it was a bit of a quiet morning!). This also led to the only kissing gate of the walk that didn't result in a kiss; one of our long running silly traditions!
I had been a bit apprehensive about this day as it was covering a fair distance, but it actually turned out to be my favourite day of the walk for the scenery. The mist from the previous day had cleared and the sun came back out, allowing us to enjoy Exmoor at its best.
There was a stunning stretch of walking with magnificent views on the way to Simonsbath. A short while after Simonsbath we joined a stretch that Steve and I were familiar with, having walked it before, leading to Hoar Oak Tree, the county boundary between Devon and Somerset. Close by and visible from the path is Hoar Oak Cottage, which Steve and I forever dream of restoring in our very own 'Grand Design'. It can't hurt to dream!
The stretch over Cheriton Ridge was fantastic, offering stunning views in all directions. Once we left the open moor we made our way towards Hillsford Bridge and embarked on what I saw as the final stretch towards Lynmouth. By this point we were quite excited- we were almost there! The path rose steeply from the A39 and we were rewarded with a walk along a path on top of a stunning wooded gorge- a fantastic stretch of walking.
Finally the path descended steeply again to Lynmouth. By this point, the muscles in Steve's legs had begun to stiffen and he was struggling with the downhill stretches. The going was slow and we pigeon stepped our way down the hill into picturesque Lynmouth, probably my favourite village in Devon. We made our way to the pier where we got somebody to take a photo of us all – we had done it! What a sense of achievement (and relief!).
We took the cliff railway up to Lynton where we were staying that evening. Harvey wasn't quite sure what to make of the cliff railway and trembled all the way up. Baldy Man was staying at a B&B called Waterloo House [now closed], but Steve and I stayed at the Lynton Cottage Hotel (since converted into the Lynton Cottage Seaview Apartments). Ever since my first trip to Lynmouth with my mum several years ago, I had always wanted to stay in one of the hotels on the cliffs looking out at the sea. For this reason and as a reward for having completed the walk, we spent a bit more and splashed out on the Bay View Suite which had incredible panoramic views. I'm so glad we did- what a perfect way to end a fantastic week's walking.